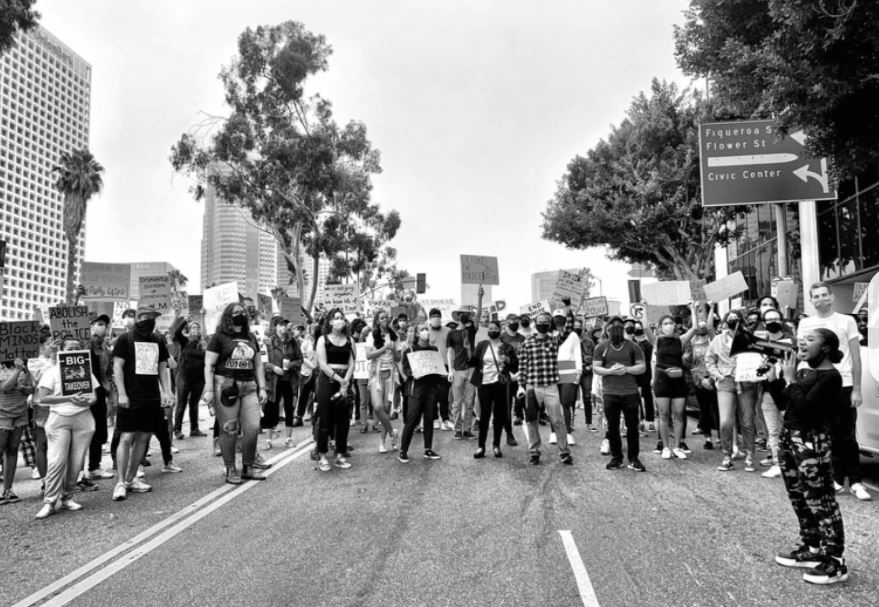 By Students Deserve Abolitionist Educators
Led by Black young people across the Los Angeles Unified School District, students, teachers and parents at the UCLA Community School and Mann UCLA Community School have joined with others to call for justice. Through Students Deserve, students, teachers and parents are using political education to identify and challenge oppressive systems that harm people at school and beyond; organizing to end policing; and encouraging investments in community schools. The UCLA Center for Community Schooling is pleased to share the following blog, authored by Students Deserve Abolitionist Educators, regarding the vote by the LAUSD Board of Education, made on Tuesday, February 16th, to better support Black students district-wide.
Since the historic vote to defund $25 million from LA School Police last June, Black students, parents, and community members have invited us to dream of better opportunities for Black youth in the District. And now that has become a reality.
 As a result of Tuesday's vote, the 53 schools with the highest number of Black students in the district will receive the following:
An additional Psychiatric Social Worker at each site; 

A restorative justice coordinator at each site;

An additional academic counselor at secondary schools or additional Pupil Services and Attendance counselor at elementary schools; 

Every secondary school will receive one or more school climate coaches trained in social-emotional strategies and de-escalation techniques to build student, staff, and parent self-efficacy;

 A block grant to purchase additional positions, including potentially an extra electives teacher, an extra grade level teacher to reduce class size, a librarian, parent reps, etc. (The size of this block grant will be determined by the number of Black students at the school.)
This is not a one time investment; these positions are not for one year. These are additional resources for Black students that will be ongoing for years to come.
Through our 2019 strike, the district committed to fund 30 community schools. This School Board vote added 10 more community schools to that list, for a total of 40. So, in addition to the resources above, 10 schools will be provided even more resources and much needed wrap-around services.
Furthermore, $2 million will be used to support the expansion of Ethnic Studies offerings across the 15 high schools with the highest number of Black students. This means Black students will see themselves in their lessons and learn the resilient history of ethnic minorities.
Finally, school police will no longer be permitted to use pepper spray on children, and school police will no longer be stationed on campus! We know that when school police are stationed on campus, the result is more handcuffing and arresting of Black youth. Providing services for Black students instead of policing is a major step in dismantling the school-to-prison pipeline.
One of the co-founders of the Black Lives Matter movement, Alicia Garza, is famous for saying:
When Black people get free, everybody gets free."
By investing in the students most harmed by school police, we can improve the conditions for all of our students. The thousands of students at these schools, the majority of whom are not Black, will benefit from the additional resources made possible by Black student activism. When we change conditions to meet Black students' needs, all students are supported. That's what has happened here!
 By divesting this $25 million, our district recognizes that the generational trauma of policing impacts Black and Latinx student learning. Our students now have increased resources to engage in healing, build healthy communication skills, and access college readiness. Black student achievement means Black resilient futures!
 Coming out of this pandemic, returning to campus will not be easy. At the same time, this is an opportunity to re-envision schools as true centers of healing, safety and learning. These changes are a first step in creating healing-centered schools for students and staff when we return. 
During public comment to the School Board on Tuesday, 9th grader Sierra Leone Anderson said,
"I am inspired because, in spite of all that heartache and disappointment and waiting, the Black Youth in this organization continue to persevere and fight for their lives, for the lives of all Black students. I am inspired because we are brilliant. We are changemakers. And we refused to not be listened to."
We are all inspired by and benefit from the brilliance of the Black youth who organized and won reparations for their communities, and, in turn, brought us all one step closer to liberation. Read more about the unanimous LAUSD Board of Education decision here.