This month we celebrate the value of our democracy and the importance of preparing students to engage as active and critical participants in society. As Ira Harkavy reminds us, universities must "contribute to developing and sustaining fair, decent and just democratic societies for all." University-assisted community schools do just that when they bring together diverse learners to collectively solve problems and celebrate the agency within communities. We are excited to share stories about artivism, political action, our future graduates, and the Rise Up for Equity movement coming to Los Angeles in May.
UCLA Undergraduates Teach K-12 Students About Artivism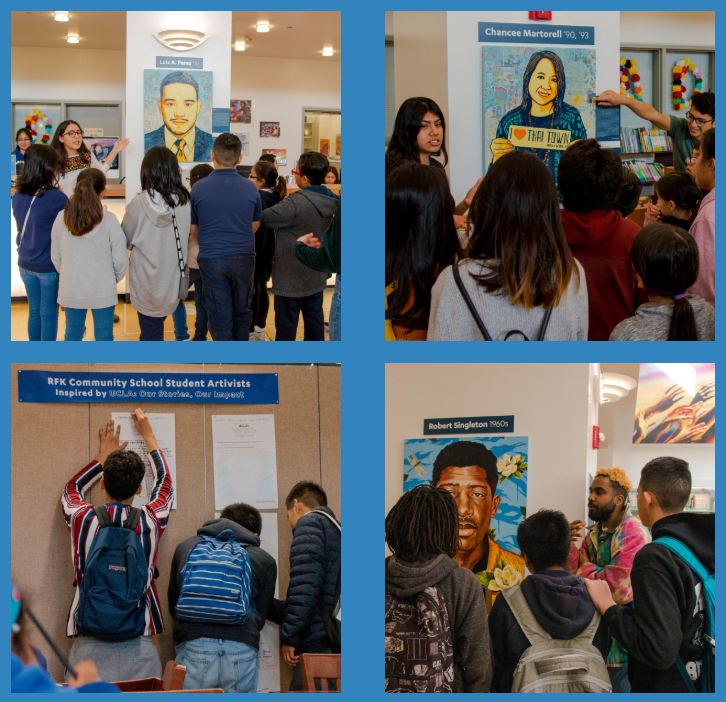 On February 19th, seven UCLA undergraduates engaged over 100 elementary and high school students in learning about Art and Activism—the focus of UCLA's Our Stories Our Impact traveling multimedia exhibit, currently on display in the RFK Community Schools Library until March 13th.
After an introduction to the concept of Artivism, students met one of the exhibit's artists, Gabe Gault (pictured in the bottom right photo), who shared his work and journey. Students hung on every word as they learned about Mr. Gault's early interest in anime and Dragon Ball Z and the inspiration he felt portraying three of the exhibit's activists—Robert Singleton, John Delloro, and Patrisse Cullors. A 5th grade student asked Mr. Gault about his current work and the entire room gasped when he announced he was working on a mural of Kobe and Gianna Bryant.
After touring the exhibit, students created their own Artivism portraits of someone they felt made a difference in the world. From family members to activists like Nelson Mandela, the students' portraits are displayed in the library. Professor Abel Valenzuela ended the class with a unity clap used to build solidarity in social movements. To help all of our teachers and students engage with the exhibit, UCLA undergraduates prepared this lesson plan and set of teaching resources. On March 4th, another group of students will engage with the exhibit, Gabe Gault, and one of the activists portrayed, Chancee Martorell, an advocate, urban planner, and community leader, dedicated to Thai, immigrant, and local communities.
8th Graders Join the Fight for Environmental Justice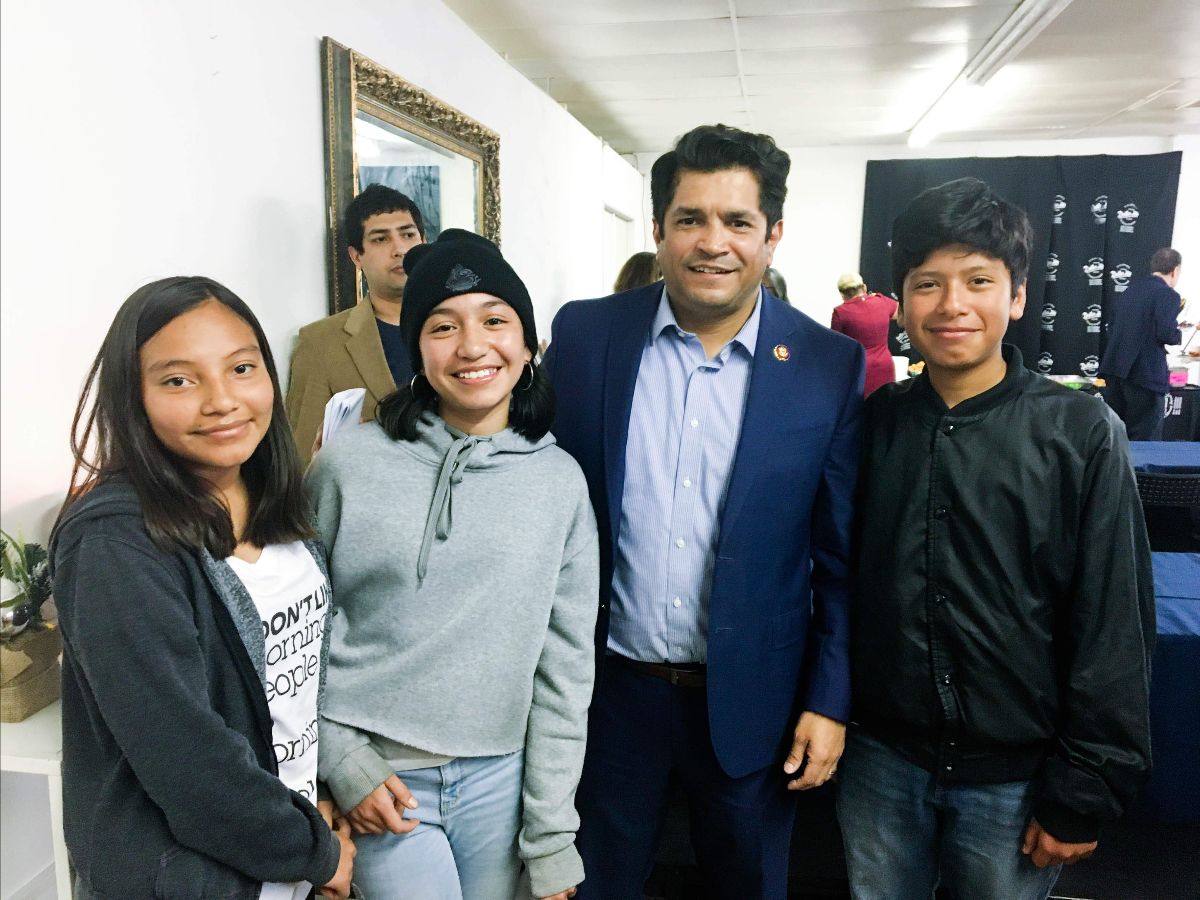 Pictured, from left to right, above: Genesis, Adila, Congressman Jimmy Gomez, and Armando.
Eighth graders at UCLA Community School have been learning about the effects of climate change in their science class. In response to their learning, students wrote letters to their legislators to express concerns about the rise of greenhouse gases and to share their mitigation plans for government and industry to reduce emissions. Student plans included a greater investment in biofuels, solar power, as well as improved transportation and building efficiency.
Inspired by the efforts of Greta Thunberg, Xiuhtezcatl Martinez, Isra Hirsi, and other teen climate activists, 8th grade students joined the fight for environmental justice. As one student wrote, "Climate change has already damaged so much of our world…like causing more wildfires and killing Australian animals… I am writing this because I have a little brother and I don't want him to live in a world of destruction." Another student shared, "I am just asking that you give us teenagers the future that we deserve."
On February 20th, students had an opportunity to present their mitigation plans to Congressman Jimmy Gomez (US Representative for 34th Congressional District). At a local community meeting, students introduced themselves, presented their letters, and asked, "What are you and Congress doing to stop climate change?" Impressed with their environmental activism, Congressman Gomez invited 8th graders to visit the Los Angeles Department of Water and Power's La Kretz Innovation Campus which is a living lab for new and emerging technologies focused on sustainability.
Honoring Student Progress at Mann UCLA Community School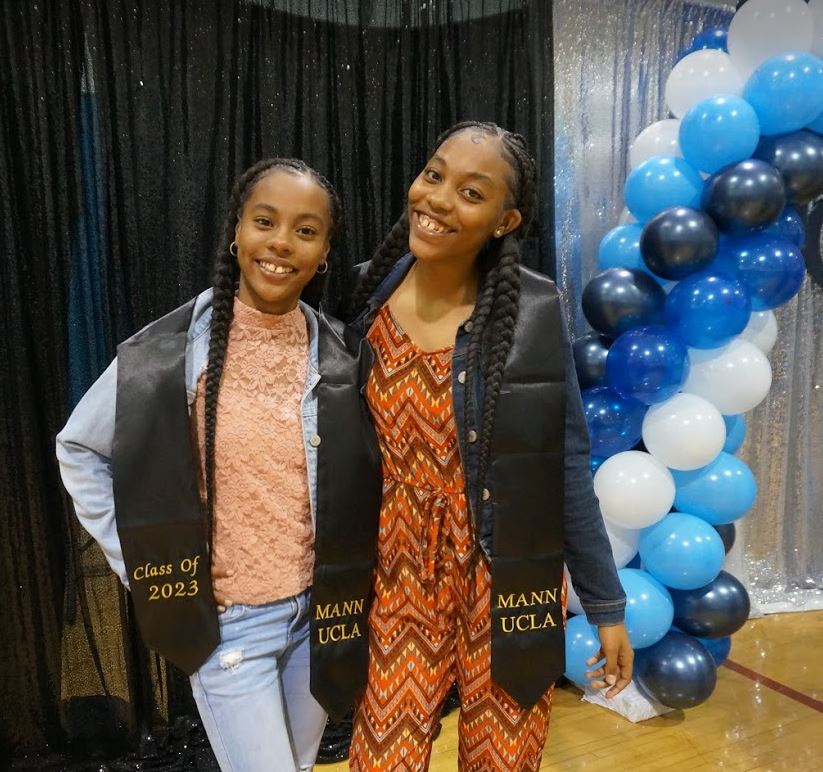 Pictured, from left to right: 9th grade students Hasina and Hasanati.
On January 30th, families, students, teachers and administrators came together to honor students at Mann UCLA Community School who continue to strive to do their best. At the event, the Class of 2023–Mann UCLA's third graduating class–was officially inducted. Members of the class were presented with a stole that they will wear on their graduation day. Students in grades 8 to 11 who demonstrated excellence during the first semester of 2019-2020 were provided with pins, ribbons, and certificates. Pins will be added to students' graduation stoles. Congratulations to Mann UCLA Community School!
ASCD's Annual Conference Highlights the work of the Robert F. Kennedy Community Schools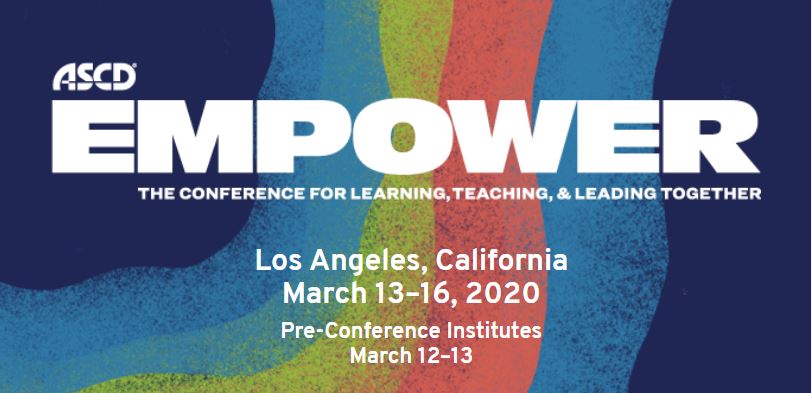 ASCD Empower: The Conference for Learning, Teaching, and Leading Together brings teachers, administrators, instructional coaches, and district/state administrators from across the country for powerful and innovative professional development. This year's conference will be held from March 12-16 in Los Angeles and will offer site visits to "exemplary schools" across the Greater Los Angeles area. RFK Community Schools have been selected as one of these exemplary sites. Each site visit features a personalized tour, and a unique look into innovative school programs and dynamic faculties.
For more information about the conference and site visits click here.
Rise Up for Equity: May 2020

Mark your calendar for May 27-29, 2020 to join teachers, community organizers, parents, youth, school and district leaders, researchers, policymakers and more at Rise Up for Equity: A National Summit on Community Schools & Community Engagement.  
As a local co-host of Rise Up for Equity, the UCLA Center for Community Schooling looks forward to welcoming attendees from across the country to Los Angeles. We invite attendees to learn about the work of local community schools and partnerships through a set of exciting workshops and posters, local site visits, and plenary sessions.
Click here to register for Rise Up for Equity and to view a detailed schedule.