We are excited to re-launch our Center newsletter this quarter with news about an upcoming study tour, a partnership highlight, and updates on our portfolio of research-practice partnerships. We also invite you to join us at the National Community Schools and Family Engagement Conference in Philadelphia (June 7-9) and the first annual California Community Schools EMPOWER Summit in San Francisco (June 16).
Please forward our newsletter along and subscribe here if you are interested in joining our mailing list. Thanks!
May 18th UCLA Community School Study Tour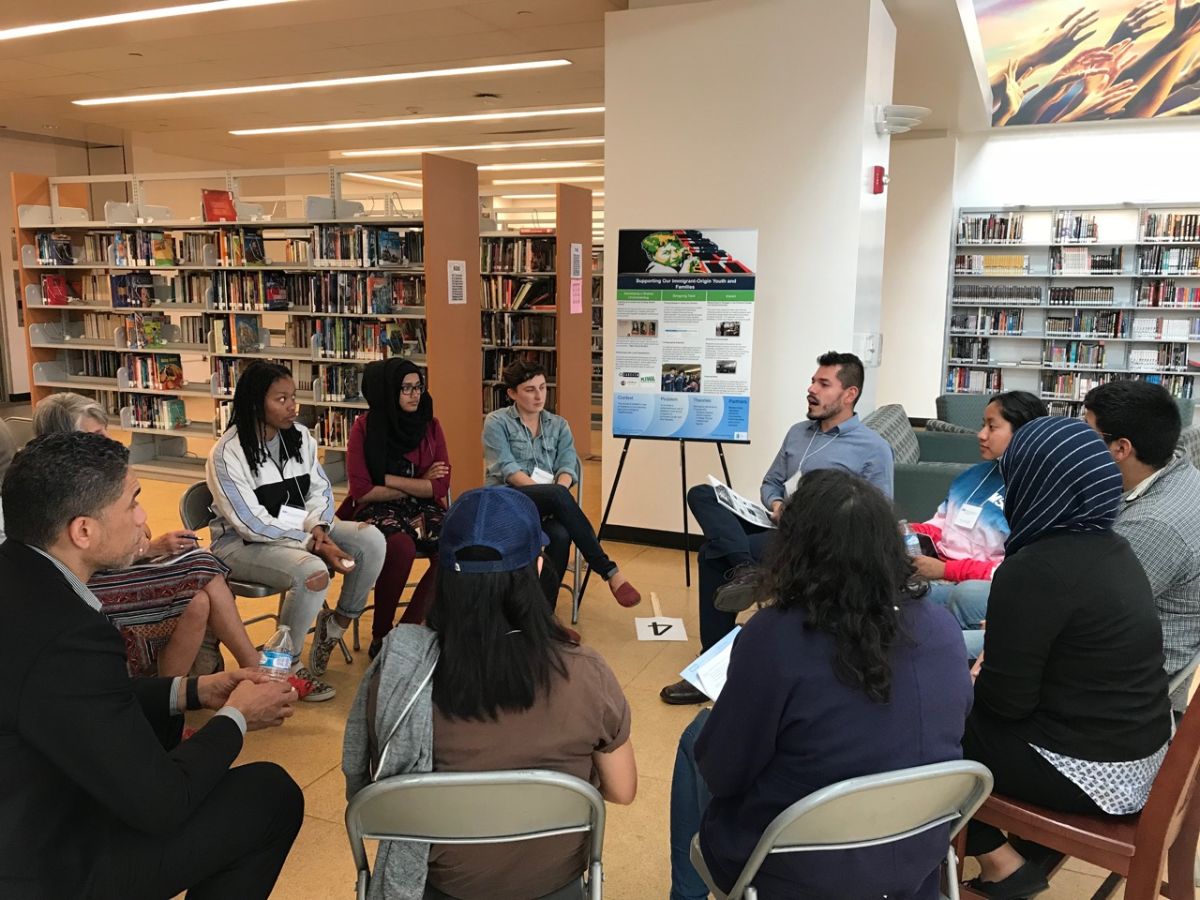 Please join us on May 18th from 9:00 to 11:30AM at the UCLA Community School in Koreatown for an introduction to the school's vision and core practices. Space is limited to 30 participants and advanced registration is required.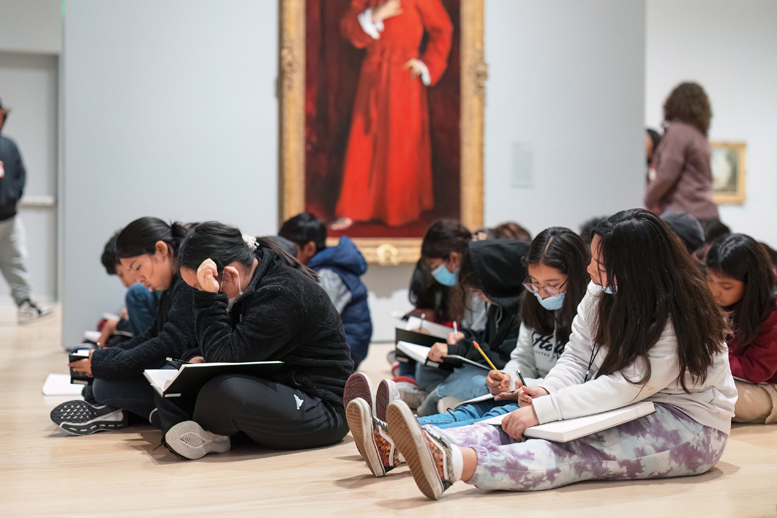 Classroom in Residence Program Returns to Hammer Museum
Sixth Graders from Robert F. Kennedy Community School Learn about Art, Themselves and Each Other
On a rainy Tuesday in mid-March, Rachel Regalado, UCLA alumnus, assistant educator with the Hammer Museum's academic programs looked out over a small sea of sixth-graders seated carefully on the floor of one of the gallery spaces.
She invited the young visitors, on site at the Hammer daily for a full week of activities and artmaking, to take some time observing the whirling and cascading loops of vaguely identifiable cityscapes in the complex piece of photographic art hanging in front of them.
The work is part of the Hammer's "Cruel Youth Diary: Chinese Photography and Video from the Haudenschild Collection" exhibition, representing a generation of artists whose work responded to a period of tremendous social, political, and economic change in mainland China.
The young students talked about how the large-scale digital collage was likely made, what the visuals they noticed might be reflecting, and how it made them feel.
Imagining America — Stories of Change
Research-Practice Partnership Updates
UCLA graduate student Pharren Miller is engaged in a research-practice partnership at Mann UCLA Community School entitled, "Are The (Black) Girls Alright? The Policing of Black Girls In Schools And The Ways We Resist." Her project creates, studies, and supports safe spaces for Black girls at Mann. She presented her preliminary findings to the school's Shared Governance Council and was recently awarded two scholarships to support her ongoing work at Mann: Mariame Kaba Black Feminism Initiative Graduate Fellowship and the UCLA Graduate Research Mentorship Fellowship.
UCLA Community School Principal Queena Kim, Assistant Principal Rebekah Kang, and counselor Jasmine Munoz presented their approach to attendance challenges using improvement science tools to a packed room of 175 at the recent Carnegie Summit on Improvement in Education in San Diego, CA. Their presentation highlights the importance of being student-centered and problem specific to ensure changes we make in our systems are actual improvements that support students in a holistic manner.
Darlene Tieu, Mann UCLA Community School teacher, and Tomoko Nakajima, LPI postdoc and former researcher at the UCLA Center for Community Schooling, presented their research at the Annual Educational Research Association Conference held in Chicago from April 13-16th. Darlene and Tomoko shared their findings on community schooling and the retention of teachers of color based on their research-practice-partnership at the UCLA Community Schools.
Announcing the release of "Beyond Teacher Leadership:The Role of Teachers as Learners, Innovators and Designers for Whole Child Education." In partnership with the University of South Carolina, UCLA Center for Community Schooling researchers explore how two districts–Anaheim Union High School District in California, and Surrey School District in BC, Canada–are cultivating teachers as innovators and designers to spur innovations in whole child education. Read the full report here.
Coming Soon — Please Join Us!
On May 5th, researchers from the UCLA Center for Community Schooling–Nadia Sabat Bass, Marisa Saunders and Karen Hunter Quartz–will present at the Annual Educational Research Association virtual conference. Their paper, "A Holistic Approach to Understanding the Effectiveness of Community Schools: A Multiple-Measures Framework" will form part of a symposium entitled "Community Schools Research: Advancing Equity and Collaboration Through a Holistic Approach."
On Saturday, May 13th from 9:00AM-4:00PM, Mann UCLA Community School high school students will be sharing the findings of their YPAR projects at the first annual Mann Youth Participatory Action Research (YPAR) Conference, themed, "Freedom Dreamers: Building Black and Brown Futures". Click here to register and for more information.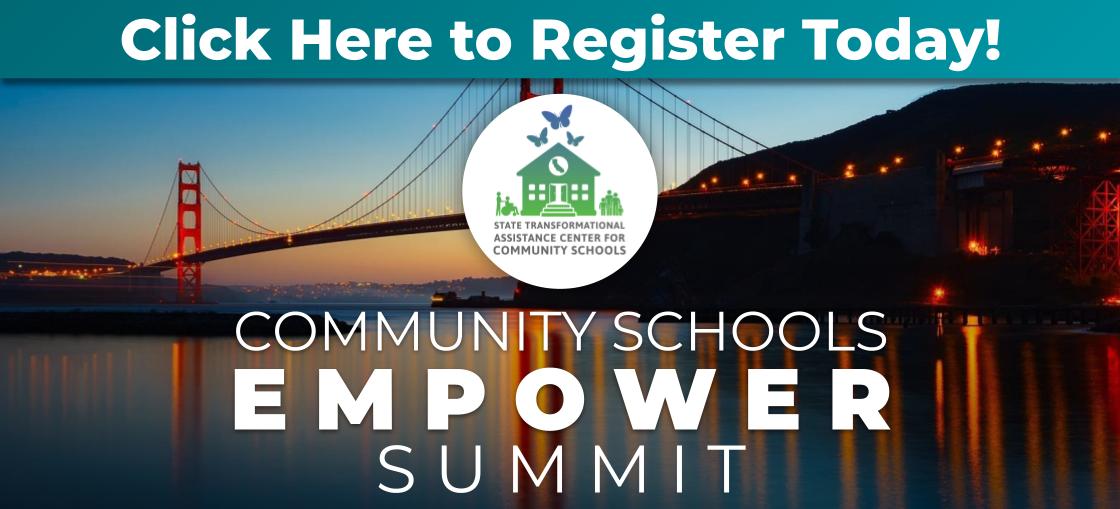 On June 16th, the State Transformational Assistance Center (S-TAC) will convene its first annual Community Schools EMPOWER Summit in San Francisco. The Summit will bring together hundreds of community school practitioners, students, families, and community partners to share the learning and celebrate the work of the state's historic $4B investment in the California Community Schools Partnership Program. Please join us to learn more about shared and collaborative leadership, building partnerships, centering community-based learning and pedagogies, and other community school practices. The Summit will also be an opportunity for the Regional Technical Assistance Centers to connect with their regional county offices of education, LEAs, and school sites. Click here to register.