Congratulations to the Class of 2021! We are thrilled to celebrate the inaugural graduating class of the Mann UCLA Community School and the 11th graduating class of the UCLA Community School. We also invite you to read a student-authored commentary about learning during the pandemic and check out other recent presentations and publications on community schooling.
Congratulations to the Inaugural Graduating Class of the Mann UCLA Community School!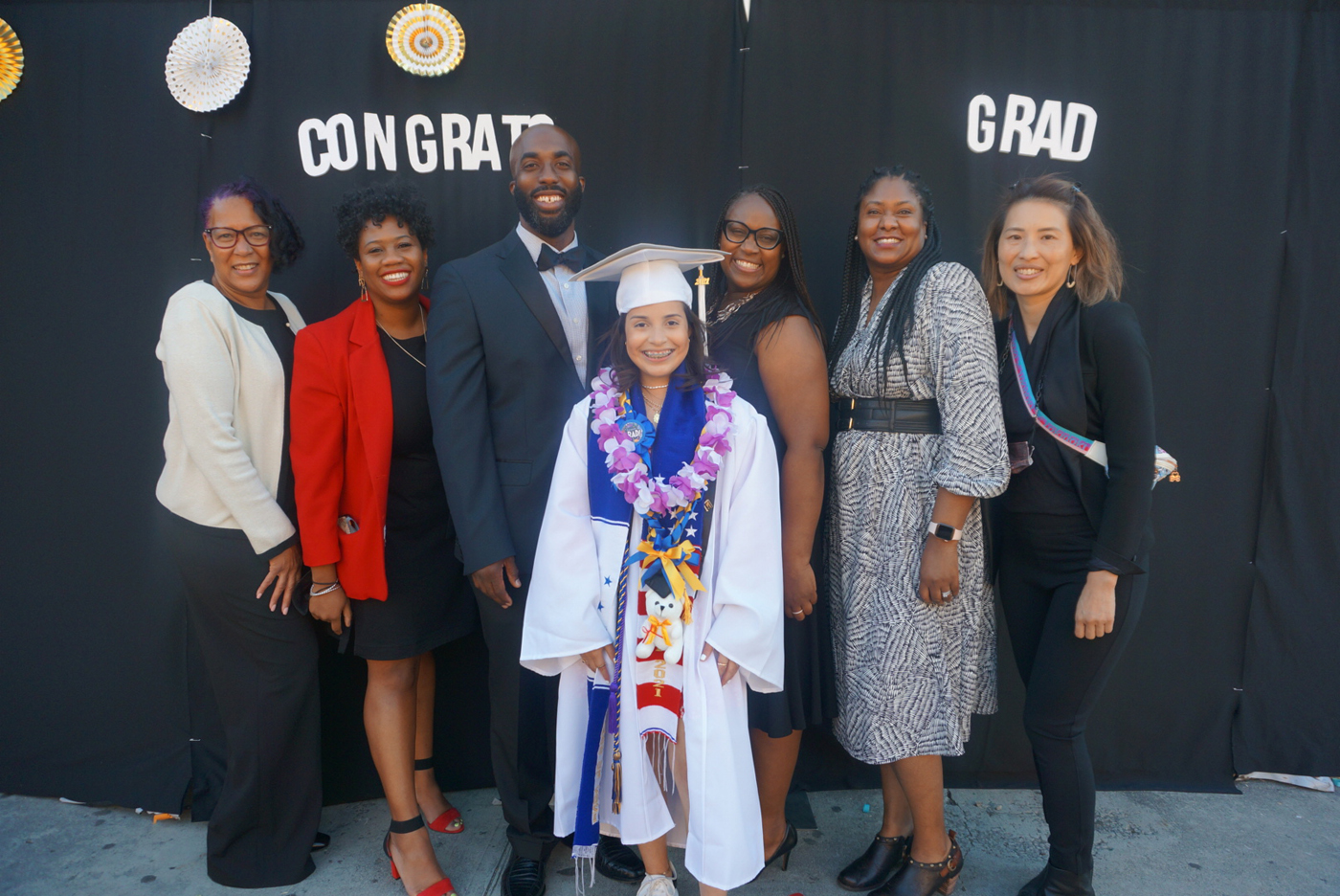 By Joanie Harmon
Mann UCLA Community School held its commencement on June 9, celebrating its first class of high school seniors. The 6-12 school in South Los Angeles honored the Class of 2021, with all 38 graduating seniors planning to attend college this fall. Ashley Oliva Funes and Xavier Alejo achieved class valedictorian status, both with a 4.0 GPA.
Christine Shen, director of the UCLA Community Schools Initiatives, says that establishing the Keck College Center on the UCLA Mann campus has been instrumental in propelling its students toward graduation and higher education.
Congratulations UCLA Community School Class of 2021!
The UCLA Community School has a strong partnership with the Fulfillment Fund, a Los Angeles-based organization that provides one-on-one college counseling support for students growing up in educationally and economically under-resourced communities. To honor the Class of 2021, our partners worked with a local television station to highlight six students and their college plans. Congratulations to the entire Class of 2021!
Finding our voices, and our research skills, during the pandemic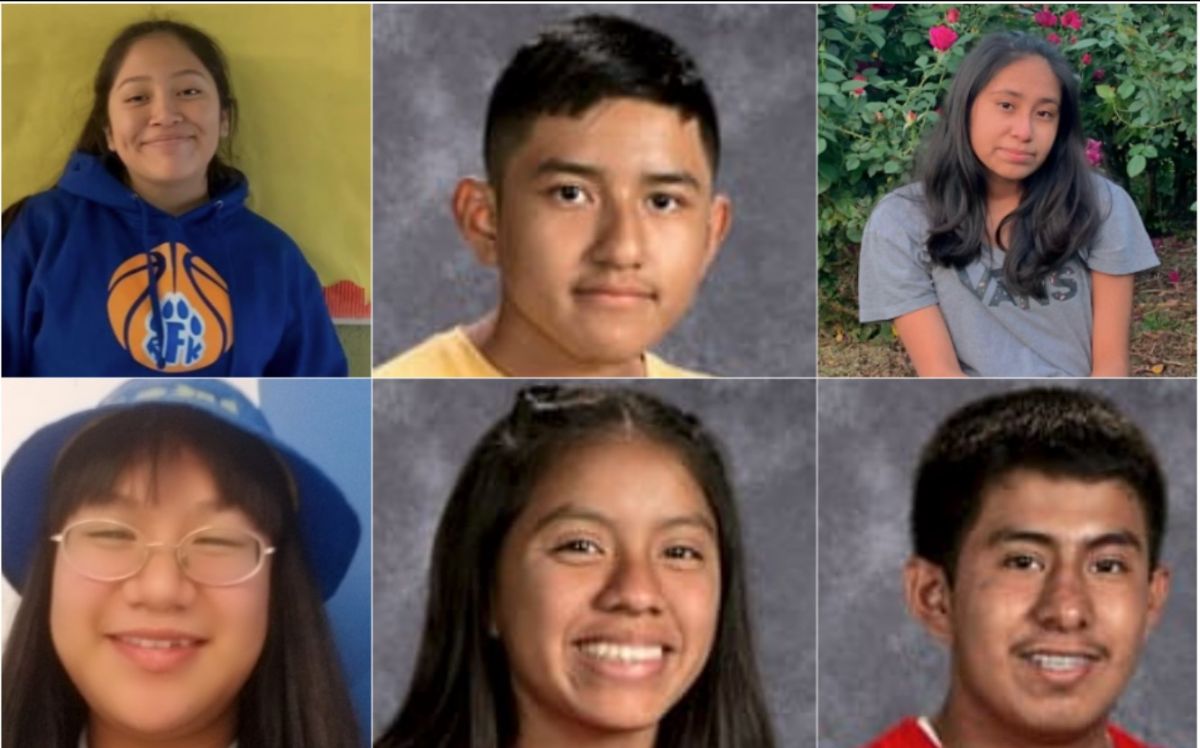 By: Gustavo Aguilar, Alex Alejo, Guadalupe Laureano Carranza, Jamie-Lynn Juco, Nareli Juquilita Lopez, and Adriana Rios-Cruz
Originally published in EdSource on May 13, 2021
In a year that many have considered lost, we have learned much.
We learned that we have many gifts and talents. We got better at our hobbies and discovered new hobbies, too. We learned that we are good at chipping in — we can cook for our families and take good care of our siblings. We learned how to fix things and do chores properly. We also learned how to manage our time, avoid procrastination, practice self-care and love, and appreciate and enjoy the present.
Our school lives were transformed just as much. We are members of the Student Advisory Board of the UCLA Community School. When the coronavirus changed life as we knew it, we came together to be sure that student voices were heard as our school moved to online learning.
Our principal, Leyda Garcia, asked us to make a research project on our situation. In doing so, we were able to shape our teachers' and administrators' understanding of our experience with school during a pandemic and lead efforts to improve it.
On June 4th, UCLA Community School coordinator Rebekah Kang and UCLA professor of medicine Mitchell Wong presented at: Meeting the Moment: Advancing Equity through Community Schools. Organized by The Greater LA Education Foundation, the virtual event engaged educators and partners across Los Angeles County in collective problem solving through a set of consultancies. Ms. Kang and Dr. Wong shared the school's work to create a community-based integrated data system to improve the delivery of support services.
On June 8th, UCLA Community School founding teacher Janet Lee-Ortiz and UCLA Center X student teacher Jennifer Camacho participated in a panel on learning to teach in community schools, part of 
EdPrepLab'
s 
Spring 2021 Convening: Elevating Exemplary Practice
. 
UCLA Center X
 partners with EdPrepLab–an initiative of the Learning Policy Institute and Bank Street Graduate School of Education–to strengthen educator preparation in the United States by building the collaborative capacity of preparation programs, school districts, and state policymakers.
Partner Highlights and Publications
The UCLA Center for Community Schooling partners with a diverse network of research organizations, and education and social justice field leaders to advance education equity and meaningful learning. We are pleased to share a number of recent publications that have been authored by our partners:
 A new playbook released by the Learning Policy Institute  provides a framework for education leaders, translating the research and highlighting the science, structures, and practices that can become the foundation for a new approach to learning. Design Principles for Schools: Putting the Science of Learning and Development Into Action, points to the concrete practices and structures schools can use to bring them to life at their sites. The project was supported by a number of Advisory Committees and a Design Team which included Karen Hunter Quartz, Director of the UCLA Center for Community Schooling.

Social Justice Humanitas Academy: A Community School Approach to Whole Child Education, released by the Learning Policy Institute, documents how a Los Angeles Unified community school implements a range of whole child education practices, supported by the science of learning and development, to advance and support student well-being and success. The report is co-authored by Marisa Saunders, Associate Director of Research at the UCLA Center for Community Schooling.

The California Partnership for the Future of Learning has released Beacons of Hope: Stories of Transformation and Equity in California Schools. The report provides a change agenda that uses this moment to reimagine and rebuild our education system to center relationships, support the whole child, invest in school staff, make learning relevant and rigorous, and constantly work towards equity and racial justice. The report highlights school communities across California, including Mendez High School in Los Angeles, that are already striving for and living this vision.