UCLA Center for Community Schooling Brief 1-BR-W19
Nurturing Play: How Schools can Provide Powerful Opportunities for Children to Learn
Alentando el juego: Cómo las escuelas pueden brindar oportunidades valiosas de aprendizaje para los niños
A Research, Practice, & Policy Brief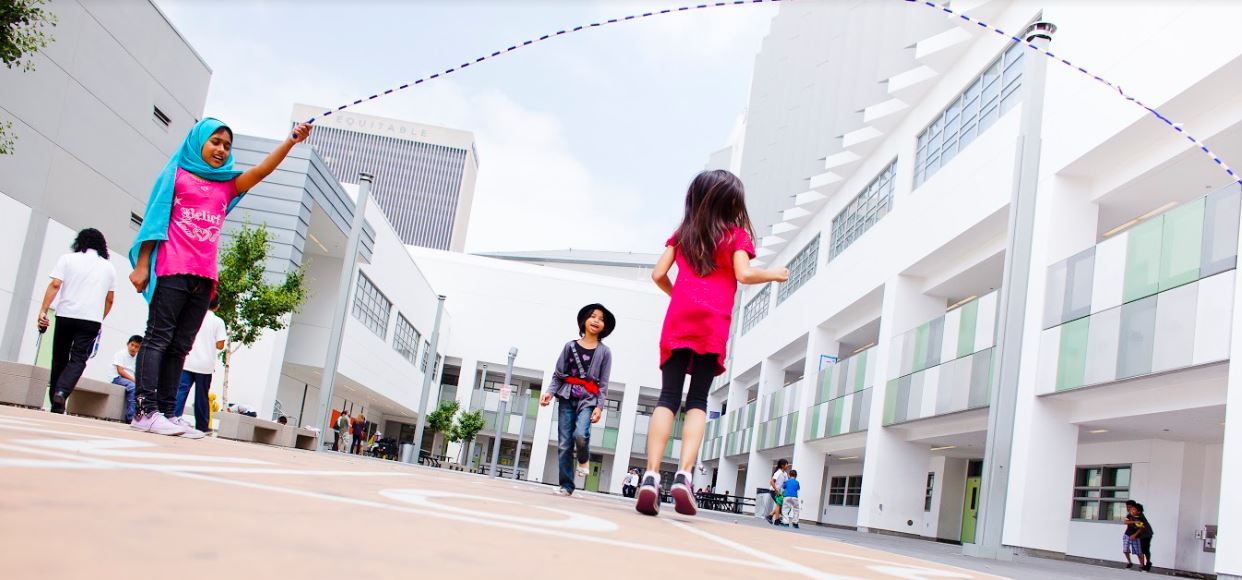 A large body of research demonstrates the immense benefits of play for children's academic learning and development [1]. However, "playful learning [2]," a teaching approach that uses free-play as well as guided-play activities, is disappearing from many school settings, especially in schools located in underserved communities. In this brief, we discuss the value of play, highlight playful learning approaches at the UCLA Community School, and introduce organizations that advocate for play-based learning policies. We also provide suggestions and further reading for teachers and families.
Muchos estudios demuestran los inmensos beneficios del juego para el aprendizaje y desarrollo académico de los niños [1]. Sin embargo, el aprendizaje a base de juego, o "playful learning" [2], un enfoque de enseñanza que utiliza el juego libre al igual que el juego guiado, está desapareciendo de muchos espacios escolares, especialmente en las escuelas ubicadas en comunidades desatendidas. En este resumen, examinamos el valor del juego, destacamos el aprendizaje basado ​​en el juego en UCLA Community School, y presentamos organizaciones que abogan por políticas de aprendizaje basadas en el juego. También ofrecemos sugerencias y lecturas adicionales para educadores y familias.
Research demonstrates that children's play fosters mathematics, language, literacy, socioemotional skills and more [3]. When they play, children engage in activities that enable them to acquire information, as well as practice a variety of skills required for success in the 21st century, such as flexible and creative thinking for problem solving. However, in many schools, playful learning has been replaced by more direct-instruction and scripted curricula.
Accountability mandates, such as standardized testing and time-intensive, scripted literacy and math curriculums, have left little room for playful learning in preschool and elementary settings [4]. These education policies have created high pressure conditions for teachers and families, often leading to learning approaches that emphasize short-term cognitive gains. Studies show that both free-play and guided-play are beneficial for learning and development, and do not stand in contrast to "academic learning." What would it mean to view play as a learning process, and as a way to see what children understand and can do? How might we provide teachers time, support and resources to implement more playful learning approaches in schools?
"A child's greatest achievements are possible through play."

Lev Vygotsky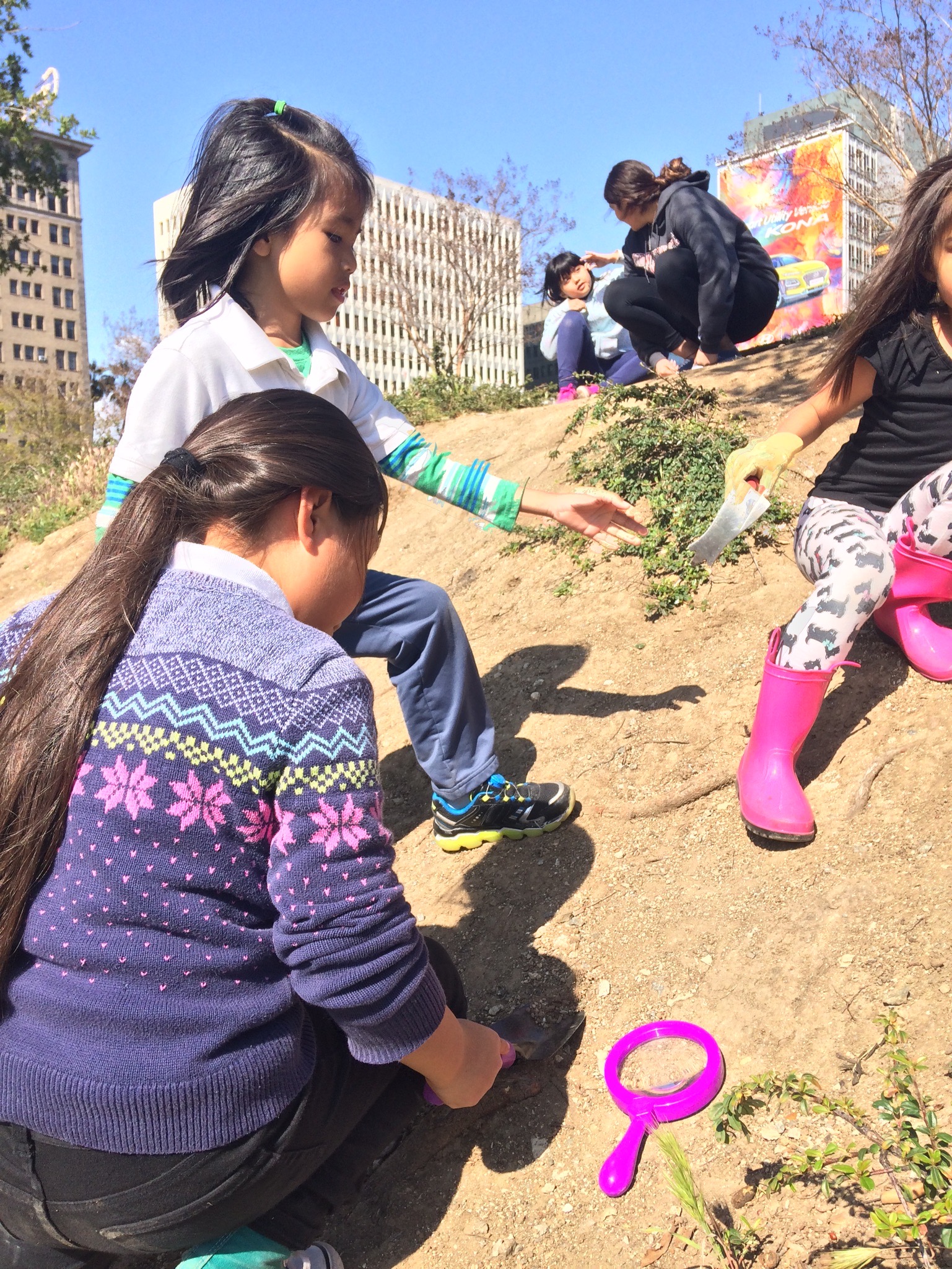 ¿Por qué es importante jugar?
Los estudios demuestran que el juego fomenta las habilidades de matemáticas, lenguaje y alfabetización, al igual que las capacidades socioemocionales de los niños [3]. Sin embargo, en muchas escuelas, el aprendizaje a base de juego ha sido reemplazado por un currículo de instrucción directa con guías rígidas. Cuando juegan, los niños participan en actividades que les permite adquirir información, así como practicar una variedad de habilidades necesarias para ser exitosos en el siglo XXI, como el pensamiento flexible y creativo para resolver problemas.
Los mandatos de rendición estudiantil, como las pruebas estandarizadas y planes de estudio de alfabetización y matemáticas han dejado poco tiempo y espacio para el aprendizaje a base de juego en las escuelas preescolares y de primaria [4]. Estas políticas educativas han creado condiciones de alta presión para los educadores y las familias, lo que a menudo lleva a enfoques de aprendizaje que enfatizan los logros cognitivos a corto plazo. Los estudios demuestran que tanto el juego libre como el guiado son beneficiosos para el aprendizaje y el desarrollo del niño y no contrastan con el "aprendizaje académico." ¿Podríamos entender el juego como un proceso de aprendizaje que nos muestra cómo piensan y aplican su conocimiento los niños? ¿Cómo podríamos proporcionar a los educadores en nuestras escuelas tiempo, apoyo y recursos para implementar enfoques de aprendizaje basados en el juego?
"Los mayores logros de un niño son posibles a través del juego."

Lev Vygotsky
According to research, play provides the most developmentally appropriate approach to support young students' skills and growth in:
Mathematics

Language
Literacy
Problem Solving

Socioemotional Development
Según los estudios, aprender a través del juego es adecuado y necesario para el desarrollo temprano del niño. Jugar ayuda al crecimiento de habilidades en:
Matemáticas

Lenguaje
Alfabetismo
Solución de problemas
Desarrollo socioemocional
Play-Based Learning at the UCLA Community School
The UCLA Community School is a neighborhood public school that was designed in 2009 to support students' development as self-directed, passionate learners as well as active and critical participants. Elementary students learn in multi-age groups called Dens that allow them to learn from and mentor each other with the guidance and support of their teachers. Many students also participate in a play-based after school program with UCLA students. Below we highlight examples of playful learning in these two elementary school contexts.
Den 1 Developmental Centers
Den 1 consists of five multi-age classrooms with transitional kindergarten, kindergarten and 1st grade students.
Students in Den 1 learn rich academic content throughout the day. Their teachers also engage them in a socio-emotional skills curriculum. Further, Den 1 teachers believe that creating space and time for play in the classroom is important for both their students' early learning and socio-emotional development. A rich play environment provides students the opportunity to employ concepts from the general curriculum, as well as practice skills from the socio-emotional learning curriculum. Teachers are also aware that many students live in apartments in Koreatown where space to engage in play may be limited, and many children are spending more time with screens, and engaging less with other forms of play.

With this in mind, Den 1 teachers structure and enrich the environment with objects and toys to provide opportunities for playful learning in Developmental Centers, or what students call "Centros de desarrollo." Students greatly enjoy this time of free-choice play, during which teachers support their playful learning. Den 1 teachers have observed that play helps students develop prosocial behaviors like sharing, collaboration, negotiation and empathy. Also, Den 1 teachers find that play also helps reduce students' anxiety, with some forms of play providing soothing experiences that are especially helpful for students in stress or experiencing trauma. Further, during Developmental Center time, Den 1 teachers and teacher assistants help students solve problems that arise among peers by facilitating positive communication, simultaneously enhancing students' bilingual oral language skills.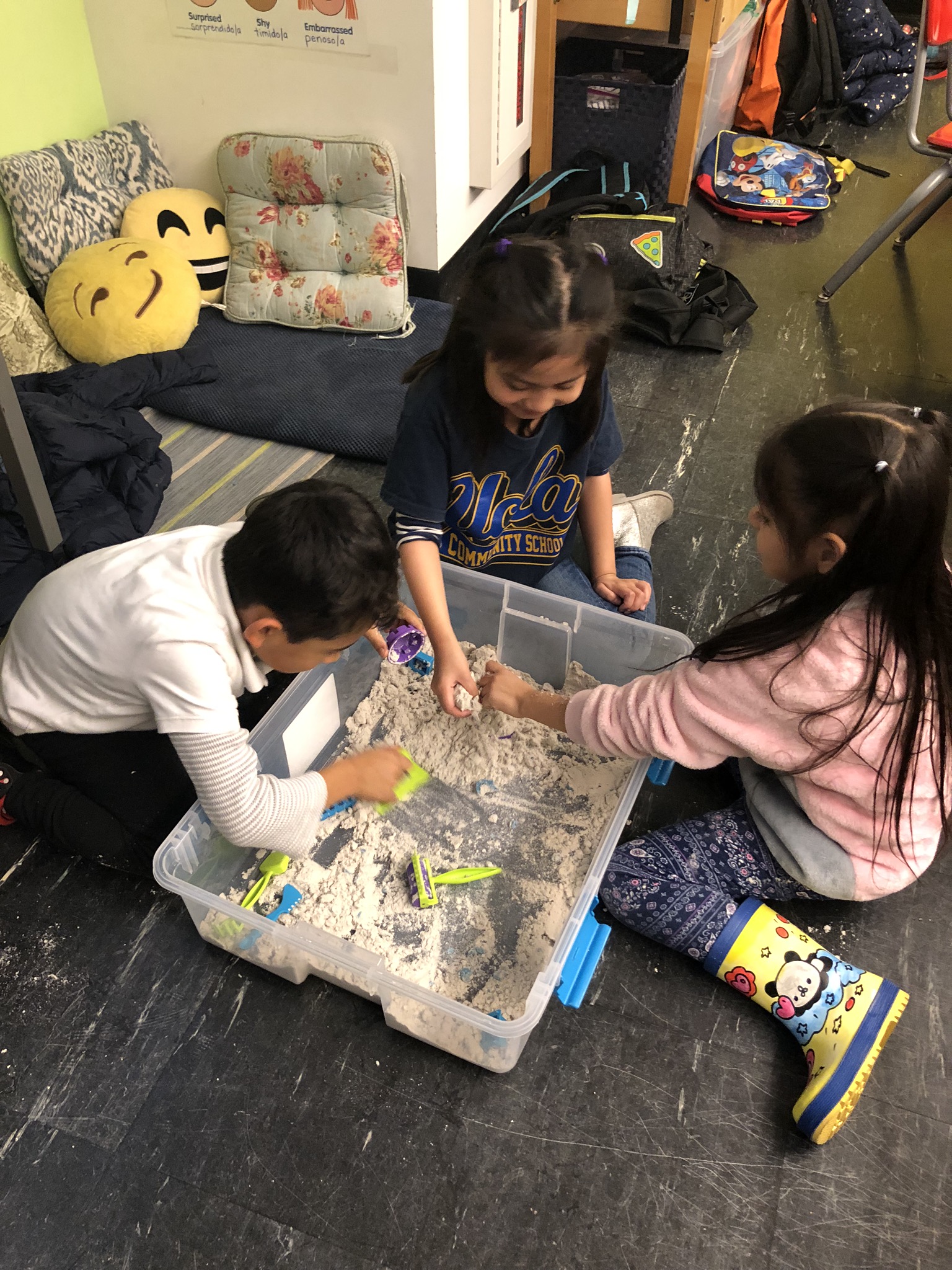 "I love feeling the kinetic sand. It's soft."
Developmental Centers vary from classroom to classroom, with each teacher using available resources and their knowledge of their students' interests and needs. In one classroom, the Kinetic Sand Center is especially popular among students. It provides students with sensory stimulation for emotion regulation, and helps enhance students' fine-motor skills as they manipulate the sand in creative ways.
Other Development Centers include:  
Blocks/Legos: Students use spatial understanding to plan out and create structures while

negotiating with each other

Kitchen: Students use their imagination and creativity to adopt roles, plan, and act out

scenarios and reenact stories they have read in class

Puzzles and Board Games: Students collaborate and reason to solve a puzzle or decide

the rules of a game

Writing & Coloring Center: Students apply literacy skills to write messages or make

cards/crafts for themselves or others, often taking inspiration from each other
Den 1 teachers recognize what research shows: adults play a unique role in guiding the play experiences of children [5]. Guided play is a synergistic learning process, and teachers and teacher assistants can enhance student's exploration and learning by co-playing with them, asking open-ended questions about what students are discovering, or teaching and encouraging students to explore materials and spaces in different ways. Den 1 teachers see the need for further training, resources and support on how educators can gently scaffold and structure student's guided play experiences to promote curricular goals while maintaining the joyful, spontaneous and child-centered aspects of play.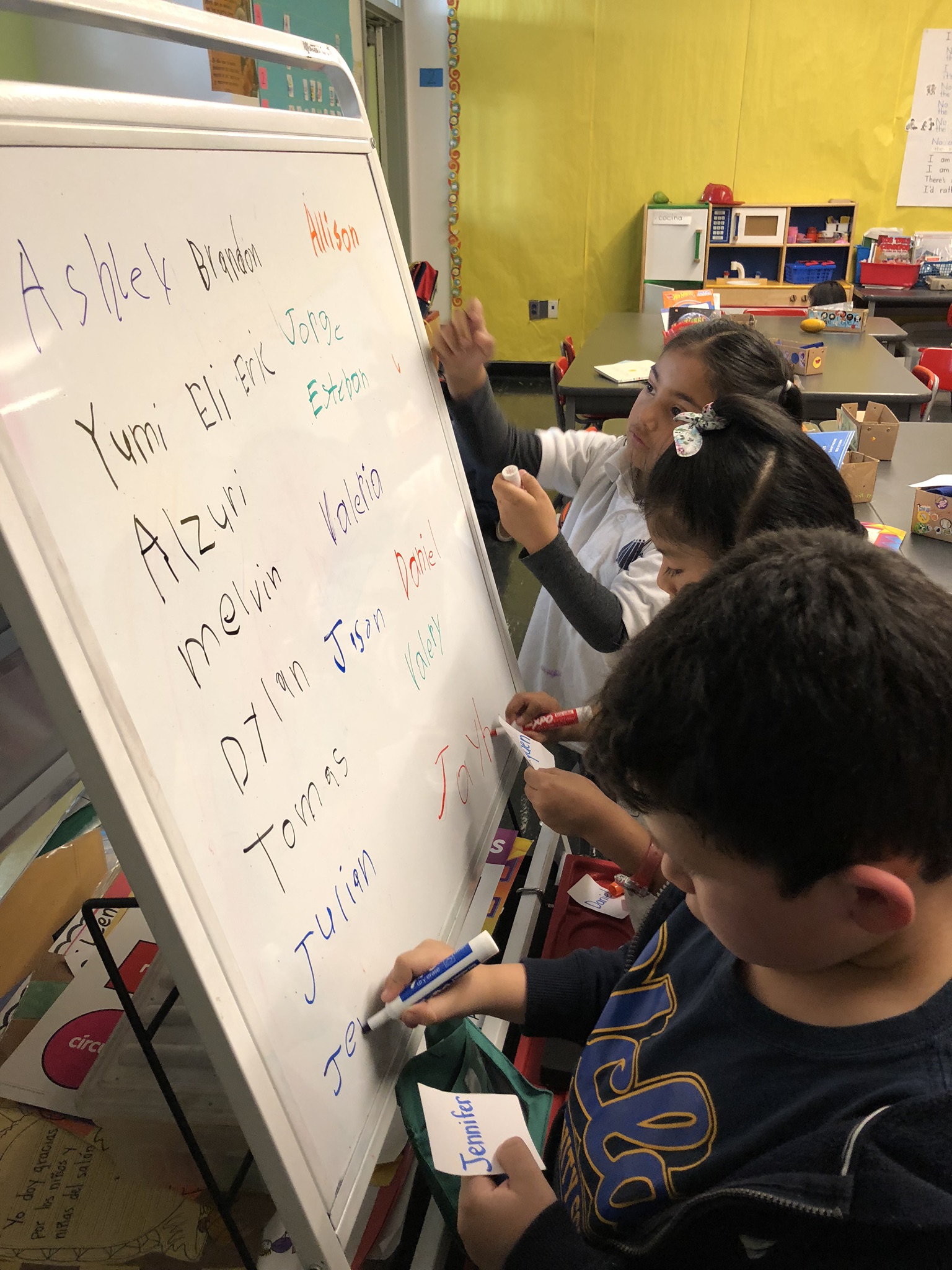 Aprendizaje basado en el juego en UCLA Community School
UCLA Community School es una escuela pública que fue fundada en 2009 para apoyar a los estudiantes a ser aprendices auto-dirigidos y apasionados, así como ser participantes de la sociedad activos y críticos. Los estudiantes de primaria aprenden en grupos de edades múltiples llamados "Dens" que les permite aprender y guiarse entre sí, con la guía y el apoyo de sus maestros. Muchos estudiantes también participan en un programa después de la escuela basado en el juego con estudiantes de UCLA. A continuación, destacamos ejemplos de aprendizaje basado en el juego en estos dos contextos de la escuela primaria.
Centros de desarrollo en Den 1
Den 1 consiste de cinco salones de edades múltiples con estudiantes de kindergarten de transición, kindergarten y 1er grado.
En Den 1, los estudiantes aprenden contenido académico riguroso a lo largo del día [5]. Sus maestras también les imparten en un currículo de aprendizaje de habilidades socioemocionales. Además, las maestras de Den 1 consideran que crear espacio y tiempo para jugar en el salón es importante para la educación temprana y para el desarrollo socioemocional de los estudiantes. Durante el tiempo de juego, los estudiantes tienen la oportunidad de emplear conceptos del currículo general, así como practicar las habilidades del currículo de aprendizaje socioemocional. Las maestras también son conscientes de que muchos estudiantes viven en apartamentos en Koreatown, donde el espacio para participar en el juego puede ser limitado, y muchos niños pasan cada vez más tiempo con aparatos con pantalla y se involucran menos con otras formas de juego.
Por estas razones, las maestras de Den 1 estructuran y enriquecen el salón con objetos y juguetes que brindan oportunidades de aprendizaje a base de juego durante los Centros de desarrollo. Los estudiantes disfrutan este tiempo de juego libre con entusiasmo, mientras las maestras apoyan su aprendizaje. Las maestras de Den 1 han observado que el juego ayuda a los estudiantes a desarrollar comportamientos prosociales como compartir, colaboración, negociación y empatía. Las maestras de Den 1 observan que el juego también ayuda a reducir la ansiedad de algunos estudiantes, ya que algunas formas de juego brindan experiencias relajantes que son especialmente beneficiosas para los estudiantes en situaciones de estrés o trauma. Además, durante el tiempo del Centros de desarrollo, las maestras y sus asistentes ayudan a los estudiantes a resolver los problemas que surgen entre compañeros al facilitar la comunicación positiva, mejorando al mismo tiempo su lenguaje oral y expresión bilingüe.
Los Centros de desarrollo varían por salón, ya cada maestra utiliza los recursos disponibles y su conocimiento de los intereses y necesidades de sus estudiantes. En un salón, el Centro de arena cinética es popular entre los estudiantes. Este centro proporciona a los estudiantes estimulación sensorial para la regulación de sus emociones. También ayuda a mejorar las habilidades de motricidad fina de los estudiantes a medida que manipulan la arena creativamente.
"Me encanta sentir la arena cinética. Es suave."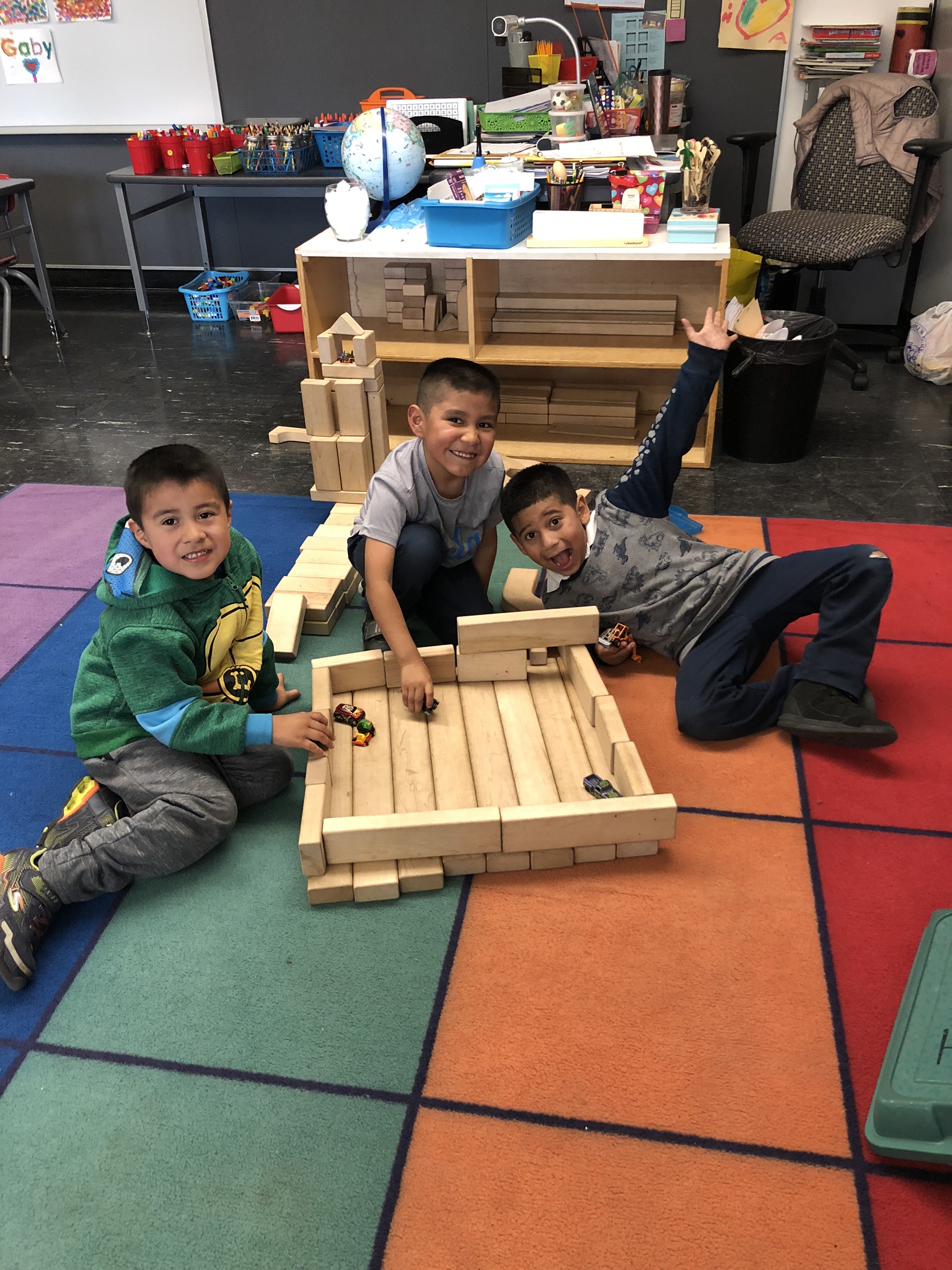 Otros Centros de desarrollo incluyen:
Bloques/Legos: los estudiantes usan la comprensión espacial para planificar y crear estructuras mientras negocian con sus compañeros

Cocina: los estudiantes usan su imaginación y creatividad para adoptar roles, planificar y actuar escenas y recrear cuentos que han leído en clase

Rompecabezas y juegos de mesa: los estudiantes colaboran y razonan para resolver un rompecabezas o decidir las reglas de un juego

Centro de escritura y arte: los estudiantes aplican habilidades de alfabetización para escribir mensajes y cartas o hacer manualidades para sí mismos u otros, a menudo inspirándose entre sí
Las maestras de Den 1 reconocen lo que los estudios demuestran: los adultos desempeñan un papel importante en la orientación de las experiencias de juego de los niños [5]. El juego guiado es un proceso de aprendizaje sinérgico, y los maestros y los asistentes de maestros pueden mejorar el aprendizaje y la exploración de los estudiantes al jugar junto con ellos, al hacer preguntas sobre lo que los estudiantes están descubriendo, o al enseñar y animar a los estudiantes a explorar materiales y espacios de diferentes maneras. Las maestras de Den 1 ven la necesidad de mayor capacitación, recursos y apoyo sobre cómo los educadores pueden planificar, estructurar y guiar las experiencias de juego de los estudiantes para promover metas curriculares, mientras mantienen los aspectos del juego que son alegres, espontáneos y centrados en el niño.
Bruin Club is an extension of the UCLA after-school program, where TK-5th grade aged children come together with UCLA undergraduate and graduate students from diverse linguistic and cultural backgrounds.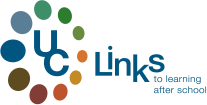 Bruin Club partnered with the school when it opened in 2009 and is also part of UC Links, a larger network of community partnerships that integrate research, teaching, and community engagement.
Children's natural love for play and connecting with others is at the center of learning at Bruin Club. Children, researchers, and university students learn and play together, with the adults facilitating activities by providing spaces and materials for the children to engage in language, literacy, and learning in a variety of ways. Through play, adults aim to recognize and expand on children's knowledge, skills and understandings.
The activities at Bruin Club change and evolve in response to children's' interests. On a given day, children might:
Write cards or letters to deliver to other Bruin Club members or to take home to family

Use cardboard and other materials to create all kinds of things, such as houses, cars, rocket ships, castles and more

Use video cameras to film portions of a movie or documentary

Garden or participate in "Explorer's Club", where they often write in notebooks, jotting down notes and drawings about what they see

Play board games, making play-doh, or building with blocks
In all of these activities, children engage with their peers and UCLA students, drawing from practices they see modeled around them, while also transforming what they learn to define their own creative practices. Through playful learning approaches, adults are able to follow children's interests and support their learning in ways that are meaningful to them.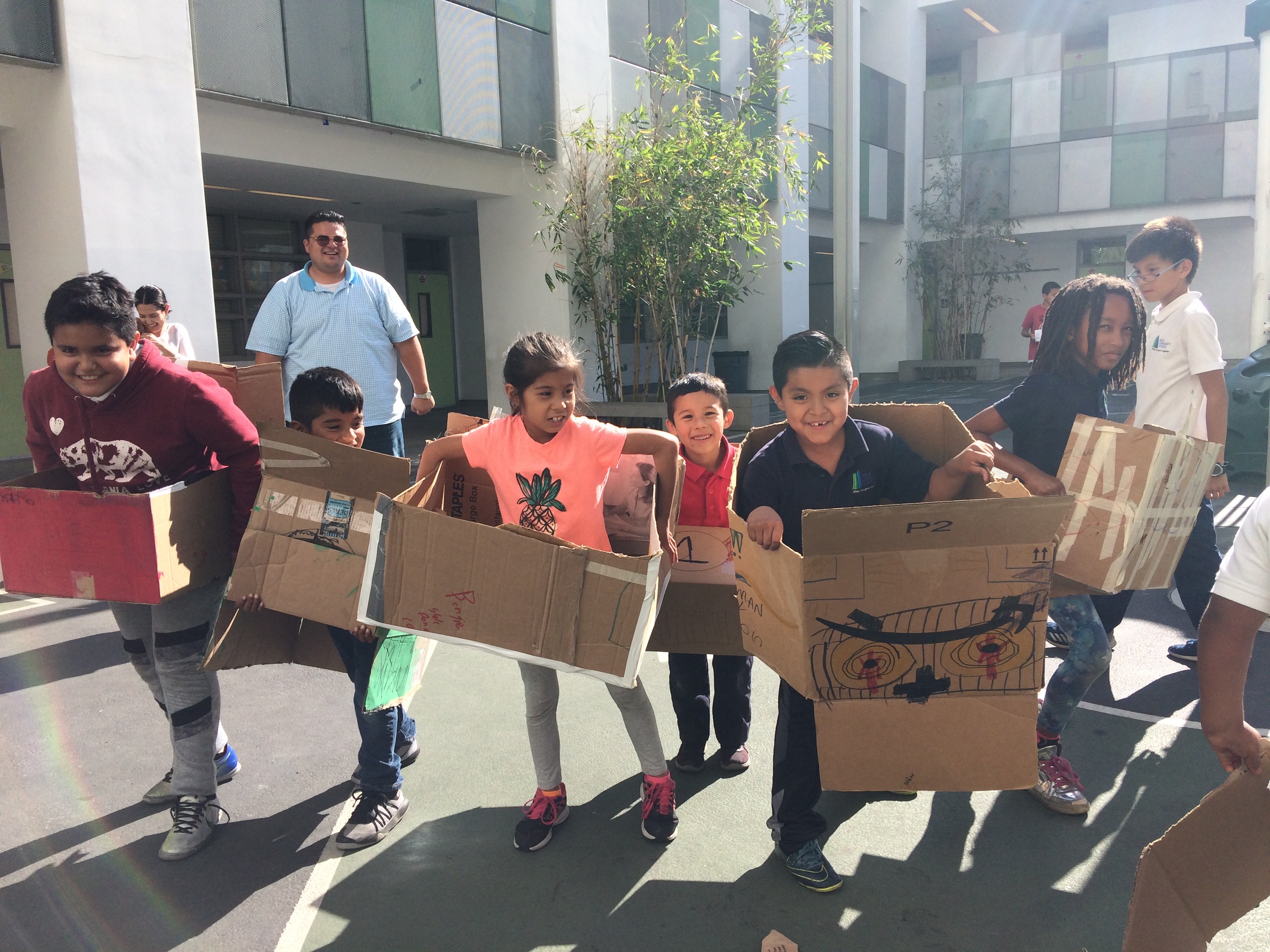 "You can build things differently. I learned that not everything has to look the same."
Bruin Club es una extensión del programa extracurricular de UCLA, donde los niños de TK-5to grado se reúnen con estudiantes de universidad y posgrado de UCLA de diversos orígenes lingüísticos y culturales.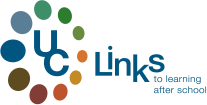 Bruin Club se asoció con la escuela cuando abrió sus puertas en 2009 y también forma parte de UC Links, una red más amplia de asociaciones comunitarias que integran investigación, enseñanza y participación comunitaria.
El amor natural de los niños por jugar y el deseo de relacionarse con otros, guían el aprendizaje en Bruin Club. Los niños, los investigadores y los estudiantes universitarios aprenden y juegan juntos, y los adultos facilitan las actividades al proporcionar espacios y materiales para que los niños interactúen con el lenguaje, la alfabetización y el aprendizaje en diversas maneras. A través del juego, los adultos buscan reconocer y ampliar las habilidades y los conocimientos de los niños.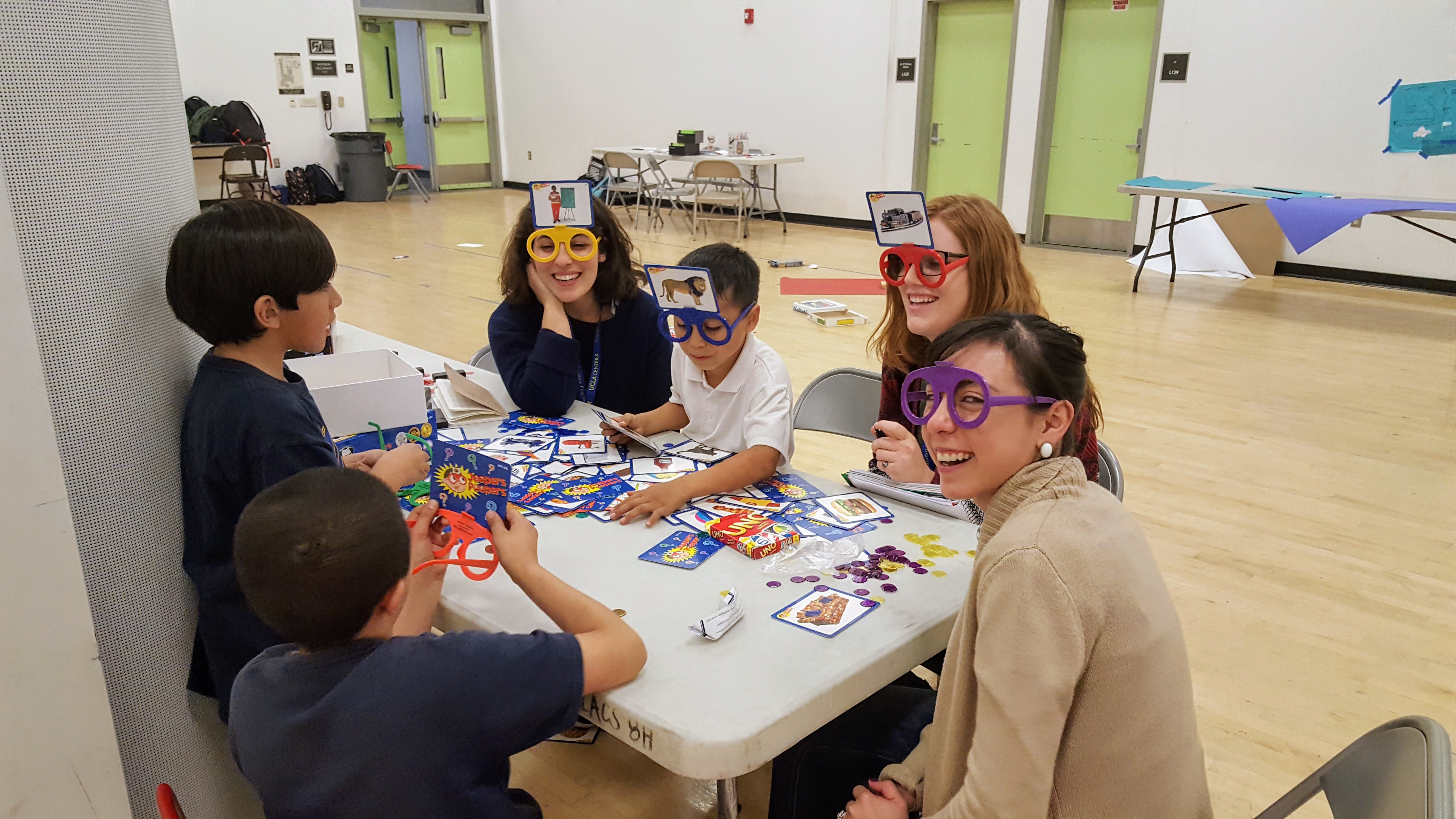 Las actividades en Bruin Club cambian y se transforman en respuesta a los intereses de los niños. En un día determinado, los niños pueden:
Escribir tarjetas o cartas para entregar a otros miembros de Bruin Club o para llevar a casa a su familia

Usar cartón y otros materiales para crear todo tipo de cosas, como casas, autos, cohetes, castillos y más

Usar video cámaras para filmar porciones de una película o documental

Hacer jardinería o participar en el "Club de exploradores," donde a menudo hacen notas y dibujos sobre lo que ven en sus cuadernos

Jugar juegos de mesa, hacer plastilina, o construir con bloques
En todas estas actividades, los niños colaboran con sus compañeros y con los estudiantes de UCLA, aprendiendo de las destrezas que ven modeladas, y al mismo tiempo transformando lo que aprenden para desarrollar sus propias destrezas creativas. A través del juego, los adultos pueden seguir los intereses de los niños y apoyar su aprendizaje en maneras que son significativas para ellos.
"Puedes construir las cosas de manera diferente. Aprendí que no todo tiene que verse igual."
Policy Advocacy and Additional Resources
Education policies linked to state standards and assessments continue to rely on constricted definitions of achievement, which limit play in schools. However, many organizations, districts, and educators are actively advocating for more play in and outside of school. Below we provide the mission and position statements from several organizations that advocate for play, many of which provide resources for administrators, educators and families.
National Association for the Education of Young Children (NAEYC)
NAEYC aims to promote high-quality early learning for all children by connecting practice, policy, and research. NAEYC believes play gives children opportunities to explore the world, interact with others, express and control emotions, develop their symbolic and problem-solving abilities, and practice emerging skills.
US Play Coalition
The US Play Coalition is a network of individuals and organizations that recognize play as a valuable and necessary part of a healthy and productive life. Members include educators, parents, physicians, health scientists, park and recreation professionals, psychologists, landscape architects and many more.
The Association for Childhood Education International (ACEI)
ACEI's mission is to promotes innovative solutions to education challenges and inspire action that creates positive, sustainable futures for children and youth worldwide. ACEI recognizes the need for children of all ages to play and supports all adults who respect, understand and advocate legitimizing play as an essential pathway to learning for all populations of children.
Playworks
Playworks is a California-based organization that helps schools and youth organizations create a place on the playground for every child to feel included, be active, and build valuable social and emotional skills. Playworks offers support through on-site staffing, professional development, free resources, and more. Organizations like The Centers for Disease Control and City Year look to Playworks to inform practice and policy.
Suggestions for Teachers and Parents
Create conditions for children to want to learn

Follow children's interests, while looking for areas to extend or expand their knowledge, skills, and understandings

Ask questions that give children room to demonstrate and share their expertise and knowledge

Respect what children create rather than suggest that their innovations are "wrong"

Look for ways to integrate play into the classroom curriculum that incorporates adult support of student's playful learning
Further Reading
Articles on Play
Elkind, D. (2007). The power of play. Cambridge, MA: Da Capo Press.

Fisher, K., Hirsh-Pasek, K., Golinkoff, R. M., Singer, D. G., & Berk, L. (2010). Playing around in school: Implications for learning and educational policy.

Wohlwend, K., & Peppler, K. (2015). All rigor and no play is no way to improve learning.

Phi Delta Kappan

,

96

(8), 22-26.

Yogman, M., Garner, A., Hutchinson, J., Hirsh-Pasek, K., Golinkoff, R. M., & Committee on Psychosocial Aspects of Child and Family Health. (2018). The power of play: A pediatric role in enhancing development in young children.

Pediatrics

,

142

(3), e20182058.
For Families:
National Association of the Education of Young Children.
For Teachers:
Kristine Mraz

,

Alison Porcelli

, &

Cheryl Tyler.

Purposeful Play: A Teacher's Guide to Igniting Deep and Joyful Learning Across the Day
Elena Bodrova, Deborah J. Leong.

Tools of the Mind: The Vygotskian Approach to Early Childhood Education
Alison Porcelli, Cheryl Tyler, Edited by Lucy Calkins.

A Quick Guide to Boosting English Acquisition in Choice Time, K-2
For more information on Bruin Club.
Marjorie Faulstich Orellana.

Immigrant Children in Transcultural Spaces.
Promoción de políticas y recursos adicionales
Las políticas educativas vinculadas a los estándares y exámenes estatales continúan basándose en definiciones limitadas del rendimiento estudiantil y limitan el juego en las escuelas. Sin embargo, muchas organizaciones, distritos y educadores están abogando activamente por más juego dentro y fuera de la escuela. A continuación, proporcionamos las declaraciones de objetivos y posición de varias organizaciones que abogan por el juego, muchas de las cuales proporcionan recursos para administradores, educadores y familias.
Asociación Nacional para la Educación de Niños Pequeños (NAEYC)
NAEYC tiene como objetivo promover el aprendizaje temprano de alta calidad para todos los niños conectando la práctica, la política y la investigación. NAEYC cree que jugar brinda a los niños la oportunidad de explorar el mundo, interactuar con otros, expresar y controlar sus emociones, desarrollar sus habilidades simbólicas y de resolución de problemas, y practicar habilidades de aprendizaje emergente.
Coalición de Juego de Estados Unidos
El US Play Coalition es una red de individuos y organizaciones que reconoce el juego como una parte valiosa y necesaria para una vida saludable y productiva. Los miembros incluyen educadores, padres, médicos, científicos de la salud, profesionales de parques y recreación, psicólogos, arquitectos, paisajistas y muchos más.
La Asociación Internacional de Educación Infantil (ACEI)
La misión de ACEI es promover soluciones innovadoras para los retos educativos, e inspirar acciones que creen futuros positivos y sostenibles para niños y jóvenes en todo el mundo. ACEI reconoce la necesidad de que los niños de todas las edades jueguen y apoya a todos los adultos que respetan, comprenden y defienden la legitimación del juego como esencial para el aprendizaje de todos los niños.
Playworks
Playworks es una organización con sede en California que ayuda a las escuelas y organizaciones juveniles a crear un espacio en el patio de recreo donde cada niño se sienta incluido, pueda ser activo y desarrolle habilidades sociales y emocionales importantes. Playworks ofrece apoyo a través de personal, desarrollo profesional, recursos gratuitos y más. Organizaciones como los Centros para el Control de Enfermedades (CDC) y City Year recurren a Playworks para informar su práctica y la política.
Sugerencias para maestros y padres
Cree condiciones en donde los niños quieran aprender

Fomente los intereses de los niños y encuentre áreas donde puede extender sus conocimientos, habilidades y entendimientos

Haga preguntas que den a los niños las oportunidades para demostrar y compartir su experiencia y conocimiento

Respete las creaciones de los niños en vez de sugerir que sus innovaciones son "incorrectas"

Busque formas de integrar el juego en el currículo escolar que incorpora el apoyo de adultos para estudiantes mientras aprenden jugando
Otras lecturas
Artículos sobre el juego:
 

Elkind, D. (2007). The power of play. Cambridge, MA: Da Capo Press.

 

Fisher, K., Hirsh-Pasek, K., Golinkoff, R. M., Singer, D. G., & Berk, L. (2011). Playing around in school: Implications for learning and educational policy.

     

Wohlwend, K., & Peppler, K. (2015). All rigor and no play is no way to improve learning.

Phi Delta Kappan

,

96

(8), 22-26.
Para familias:
National Association of the Education of Young Children.
Para maestros:
Kristine Mraz

,

Alison Porcelli

, &

Cheryl Tyler.

Purposeful Play: A Teacher's Guide to Igniting Deep and Joyful Learning Across the Day

Elena Bodrova, Deborah J. Leong.

Tools of the Mind: The Vygotskian Approach to Early Childhood Education

Alison Porcelli, Cheryl Tyler, Edited by Lucy Calkins.

A Quick Guide to Boosting English Acquisition in Choice Time, K-2
Para más información sobre Bruin Club:
Marjorie Faulstich Orellana.

Niños inmigrantes en espacios transculturales.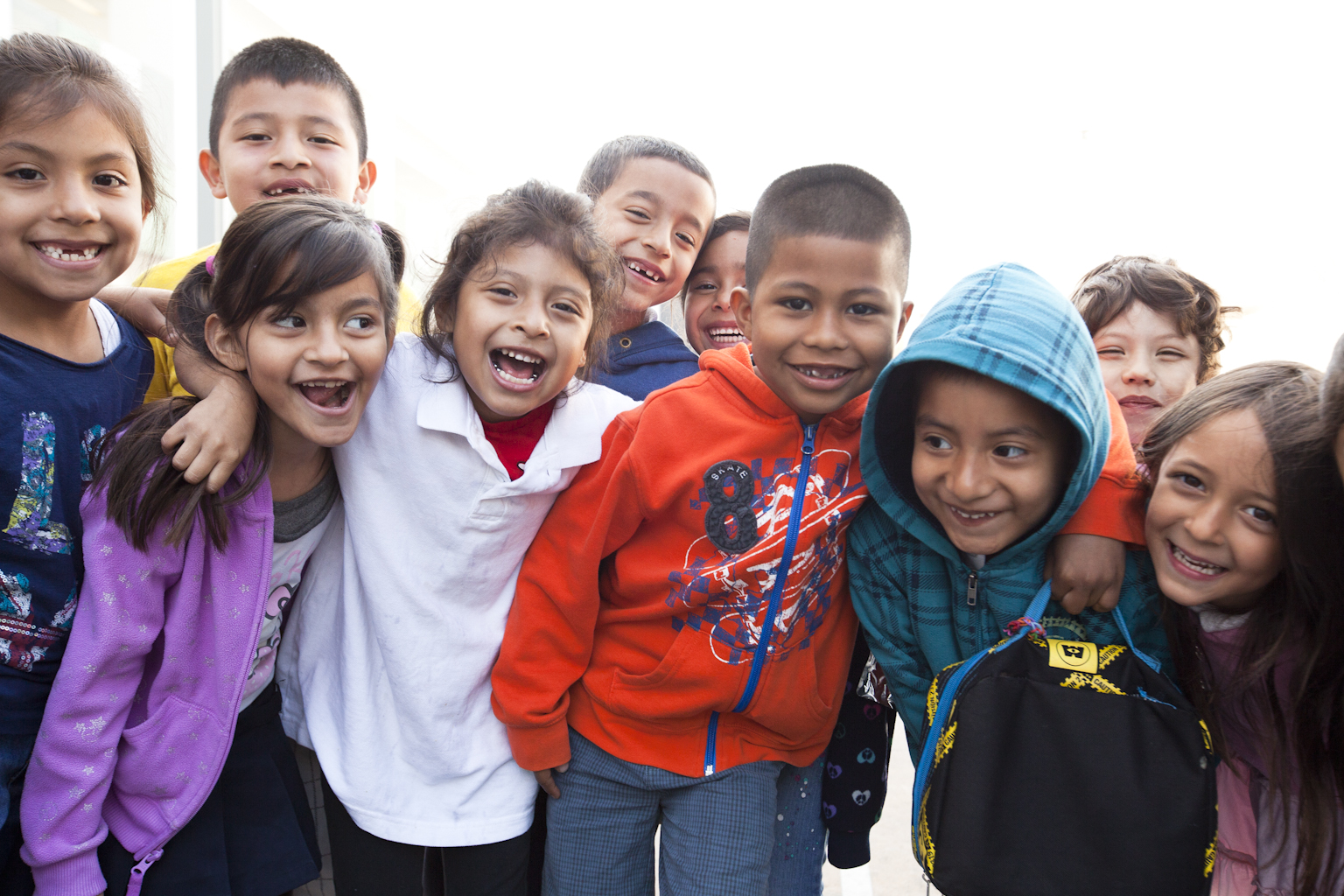 References
Fisher, K., Hirsh-Pasek, K., Golinkoff, R. M., Singer, D. G., & Berk, L. (2010). Playing around in school: Implications for learning and educational policy.

A term used by Fisher, et. al (2010). Fisher, et. al (2010) originaron el término "playful learning"

Yogman, M., Garner, A., Hutchinson, J., Hirsh-Pasek, K., Golinkoff, R. M., & Committee on Psychosocial Aspects of Child and Family Health. (2018). The power of play: A pediatric role in enhancing development in young children.

Pediatrics

,

142

(3), e20182058.

Miller, E., & Almon, J. (2009). Crisis in the Kindergarten: Why Children Need to Play in School. Alliance for Childhood (NJ3a)

Weisberg, D. S., Hirsh-Pasek, K., Golinkoff, R. M., Kittredge, A. K., & Klahr, D. (2016). Guided play: principles and practices.

Current Directions in Psychological Science

,

25

(3), 177-182.
Janelle Franco is a doctoral candidate in the Graduate School of Education and Information Studies at UCLA and has worked as a researcher and coordinator at Bruin Club. A former elementary school teacher, her research explores how young children living in multilingual contexts engage in literacy and numeracy practices through play–and how teachers can build on those practices for academic learning in schools.
Gabriela Pérez-Swanson is a bilingual Kindergarten/First Grade Teacher at the UCLA Community School. Ms. Pérez-Swanson is interested in developmentally appropriate pedagogy, and how educators can integrate an academically rigorous curriculum, socio-emotional skills learning, and free and guided play-time for young students in urban settings.
Janelle Franco es candidata al doctorado en la Escuela de Graduados de Estudios de Educación e Información de la UCLA y ha trabajado como investigadora y coordinadora de Bruin Club. Una ex-maestra de escuela primaria, su investigación explora cómo los niños pequeños que viven en contextos multilingües participan en la alfabetización y el cálculo numérico a través del juego, y cómo los maestros pueden utilizar estas prácticas para desarrollar el aprendizaje académico de sus estudiantes en las escuelas.
Gabriela Pérez-Swanson es una maestra bilingüe de Kindergarten/Primer Grado en UCLA Community School. Ms. Pérez-Swanson está interesada en la pedagogía apropiada para el desarrollo del niño, y cómo los educadores pueden integrar un plan de estudios académicamente riguroso, el aprendizaje de habilidades socioemocionales y tiempo de juego libre y guiado para estudiantes en escuelas urbanas.