Mann UCLA Community School 2019-20 Annual Report: Preparing Active & Critical Participants in Society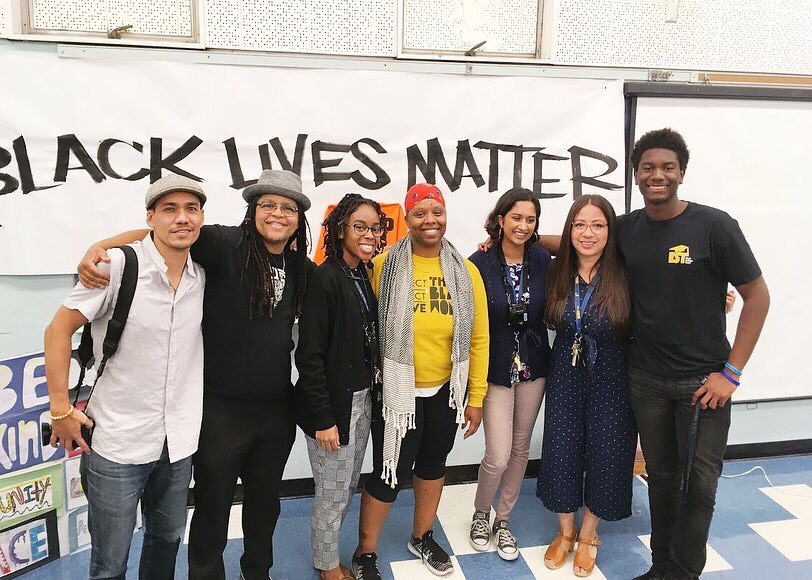 Mann UCLA Community School is a university-assisted neighborhood public school within the Los Angeles Unified School District. In 2016, UCLA partnered with Horace Mann Middle School to help reimagine the school as a K-12 community school, building on the strengths of the community as well as the success of the Robert F. Kennedy UCLA Community School in Pico Union/Koreatown. This effort is part of a larger national effort to establish full-service community schools in partnership with universities—tied deeply to the democratic traditions of collective problem solving and equal educational opportunity. In 2017, the school added a 9th grade, reversing a 16-year trend of declining enrollment, and in 2018 this growth continued with the addition of a 10th grade, and in 2019 with the addition of an 11th grade. To share our story and progress during the high school's third year, this annual report focuses on preparing students to be active and critical participants in society. 
Following a brief overview of the school history, context, and demographics in Part One, Part Two describes the school's vision and shares narratives that illustrate how this vision is coming to life and impacting student learning. Part Three turns to quantitative indicators of student outcomes and includes data dashboards to track the school's progress over time. Part Four focuses on adult learning and development, and includes data that tracks professional working conditions for teachers and the scope of UCLA's engagement and partnerships. The final section reflects on the school's role in leveraging system-wide change, including participation in larger reform movements.
Part One:  History, Context, and Community
Horace Mann Junior High School opened in 1926 as a "pioneer" in modern education and has witnessed almost a century of social change. The school has been shaped by the racially restrictive housing covenants of the 1930s and the 1950s post-war employment boom. In the 1940s enrollment peaked and students were bused to Mann from other communities, yet by the 1970s parents started putting their children on buses in search of a good education elsewhere—a legacy fueled by agency that continues today. From 1960 to 1970, the student population changed from White to Black, and then in the 1970s on, to increasingly Latino—a reflection of its changing neighborhood and city. Marguerite LaMotte, Mann's principal in the 1980s, started an honors program to stem the exodus of local students to the valley and was featured in the news for confronting gang members to create safe passages for students to walk to school. "She was right out of Brown vs. the Board of Education," recalled a district board member. Today, many of the same challenges remain, mirroring the school's socio-political context. 
Mann UCLA Community School is located in South Los Angeles, formerly known as South Central, a 51-square-mile region of Los Angeles County, California, comprising 25 neighborhoods within the City of Los Angeles. The school's neighborhood is called Chesterfield Square; however, few local residents use this name. Today, the school's neighborhood is 59% Black and 38% Latino and is noted for its low proportion of immigrant families, high proportion of war veterans, and low median income. Of particular note, only 6% of residents are graduates of a four-year college.
From 2001 to 2017, the school's enrollment plummeted as the number of charter schools within a 2.5-mile radius has swelled to 37. Since 2006, there have been five efforts to co-locate charter schools on Mann's campus—following the passage of Proposition 39 in 2000 to ensure that all public school students share equally in district facilities. Only one of these efforts succeeded, in 2016, but the charter school closed the following year. Attempts to improve the school during this time have been many, including a tumultuous reconstitution in 2011 that "hurt the school and chased away good people," according to one teacher. 
Today, families in Mann's attendance boundary have a staggering number of choices: magnets, "Permit with Transfer" (PWT) options, and charters. A 2015 district analysis of local enrollment patterns revealed that 812 students who had not moved to "independent" charter schools were zoned to Mann, yet only 328 attended. The remaining 484 neighborhood students attended 70 other district schools, including non-charter traditional schools, magnet schools, and a handful of "dependent" charters developed at longstanding LAUSD sites. This is a cultural moment of enormous flux in public education—powerfully symbolized by the historic teachers' strike in January 2019 and the current campaign to defund school police in the context of the Black Lives Matter movement. As it has for decades, Mann is on the front lines of the civil rights movement, living the struggle for racial equality, safe streets, economic stability, and good schooling. It is this democratic struggle that defines the best of its past and sets the stage for its future.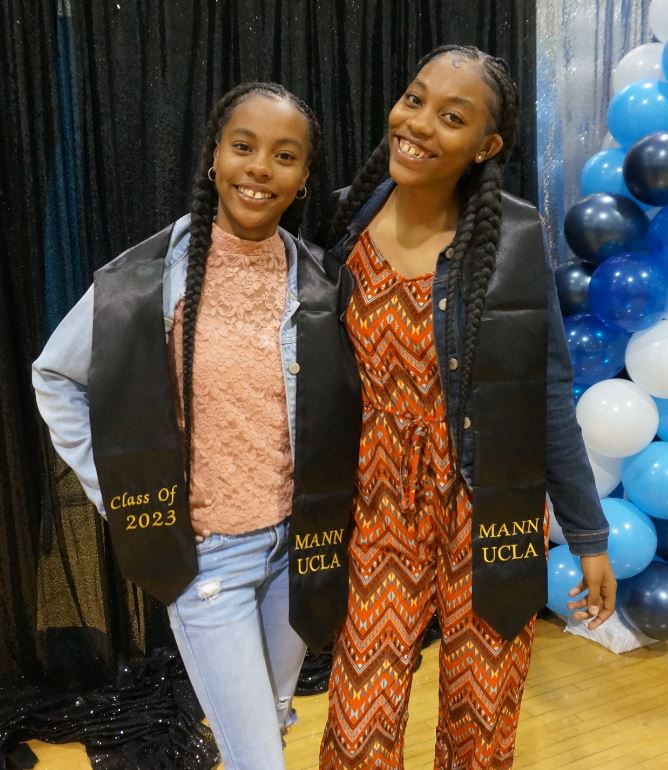 Students
In 2019-20, the student population was predominantly Black (48%) and Latino (50%), which contrasts with both the district and state demographics (see Figure 1). In particular, the school serves a much higher proportion of Black students (48%) than the state (5%) or district (8%).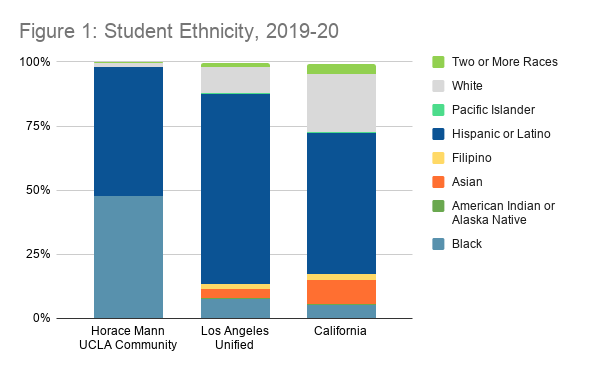 In addition, as summarized in Figure 2, the school enrolls two and half times as many complex learners (students with disabilities) (27%) than the district (11%) and state (12%). Approximately one quarter of these students enrolled in the special day program and three quarters in the resource specialist program. The percentage of students classified as English Learners was 21% in 2019-20, comparable to the state (19%) and district (20%) percentages. The proportion of socioeconomically disadvantaged students at the school (85%) is slightly higher than the district (82%). Vulnerable student populations include homeless and foster youth. In 2019-20, 3% of students were reported as homeless, 2% higher than the district and the same as the state. The proportion of students living in foster homes is reported to be much higher by local stakeholders than the 2% reported by the state. All of these factors underscore the need for a comprehensive community school model to support and nurture the school's many vulnerable students.

Enrollment has increased by 222 students over the three years of the partnership, from 322 students in the fall of 2016 to 544 at the end of the 2019-20 school year. As displayed on the CC1 Dashboard, the student population swelled from fall to spring throughout the 2016-17 and 2017-18 school years—a trend teachers report is fueled by an influx of charter school students. In contrast, 2018-19 was a fairly stable year although enrollment dipped below the previous year totals. The school started with 444 students and ended with 454, perhaps signifying a more stable school culture. From September 2019 to June 2020, however, the school year swell continued, with 45 new students enrolling in Mann throughout the year, most in 6th through 8th grade.
Adults
In 2019-20, there were 33 full-time teachers, three administrators, and many support staff, including counselors, office clerks, program specialists, parent representatives, special education paraprofessionals, and security campus aides. In addition, UCLA faculty, staff, and students contributed more than 15,150 hours at the school, serving as tutors, apprentice teachers, service learning interns, arts educators, researchers, instructional coaches, members of the Shared Governing Council, and more.  All of these adults help make the school a vibrant, adult-rich learning environment as well as a vital UCLA site for teaching, research, and service.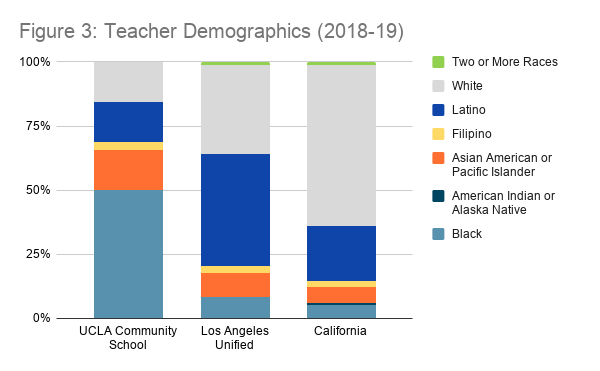 The Mann UCLA Community School teaching faculty is diverse and accomplished. In 2018-19 (most recent state data available), 82% of the faculty were teachers of color, which was more diverse than the LAUSD (66%) and state (30%) workforce. Mann UCLA-CS certificated staff have an average of 11 years of experience, lower than district (15 years) and state (14 years). Overall, 41% of the faculty are UCLA alumni and 58% of teachers hold master's degrees, which is 17 percentage points higher than the district and 28 percentage points higher than teachers statewide.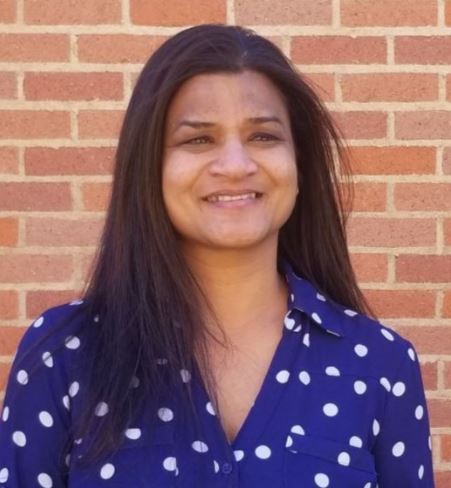 Two Mann UCLA teachers have also earned doctorates and several have been recognized for their exemplary teaching, including lead teacher Sunanda Kushon (pictured below) who in February 2020 received the UCLA Graduate School of Education and Information Studies Equity, Diversity, and Inclusion Staff Award in recognition of her outstanding social justice leadership and commitment to advancing an inclusive learning and working environment. Part Four includes more details about the professionals working at the school and the quality of the school as a stable and democratic workplace.
Part Four includes more details about the professionals working at the school as well as the quality of the school as a stable and democratic workplace.
Part Two:  School Vision and Core Practices
The Mann UCLA Community School is a community-based, learner-centered, university-assisted school—a school where many different people come together, driven by the nation's long legacy of common schooling, to create a place of learning for the next generation. The school expects students to enter the adult world as confident and capable human beings, prepared to succeed in college, pursue meaningful careers, and participate in our democracy. The Mann UCLA Community School prepares all students to live rich and meaningful lives by providing a rigorous and relevant instructional program within a personalized environment. All students are supported to achieve the following four core competencies (4CCs), or learner outcomes that will prepare them to succeed in college, careers, and civic participation.   

The school vision, mission, and 4CCs were developed by a collaborative school design team of Mann and UCLA partners during the summer of 2016 as part of a process to become an LAUSD Local Initiative School (LIS), a designation awarded in November 2016. This learner outcome development process started with the 4CCs established in 2009 for the UCLA Community School, a successful K-12 LAUSD Pilot School in Koreatown/Pico Union. After much discussion, the design team adapted the other school's learner outcomes to better reflect the priorities of the Mann community. Whole school meetings were then held during the fall of 2016 to develop consensus about the 4CCs as part of the LIS proposal submission process, which required a faculty vote to proceed. Since then, the 4CCs have been further articulated as part of an initial Western Association of Schools and Colleges (WASC) accreditation cycle in 2017-18, and in 2018-19 during weekly collaboration time when teachers worked on improving curriculum, instruction, and assessment plans and strengthening the school's culture and shared governance structures. This cycle of inquiry continued in 2019-20 as the school prepared for its first full accreditation cycle in 2020-21. 
The school's instructional approach is anchored by a "Learn-See-Do" approach to project-based learning. This inquiry model makes connections for students between what they are learning in school and real-world applications. Field trips, enrichment programs, guest speakers and other activities allow students to deepen their understanding of core academic concepts by applying what they learn through projects that are relevant to their lives. In order to ensure that the lessons teachers design support students to achieve content mastery, the school has instituted formative assessment cycles. Every two weeks, teachers administer assessments to check for student understanding and use the results to refine the flow and content of instruction.
To help bring the school's program and progress to life, this section presents four Core Practice Narratives—each of which illustrates how the Mann UCLA Community School is preparing students to be active and critical participants in society.
Core Practice Narrative #1: Building on Students' Linguistic Assets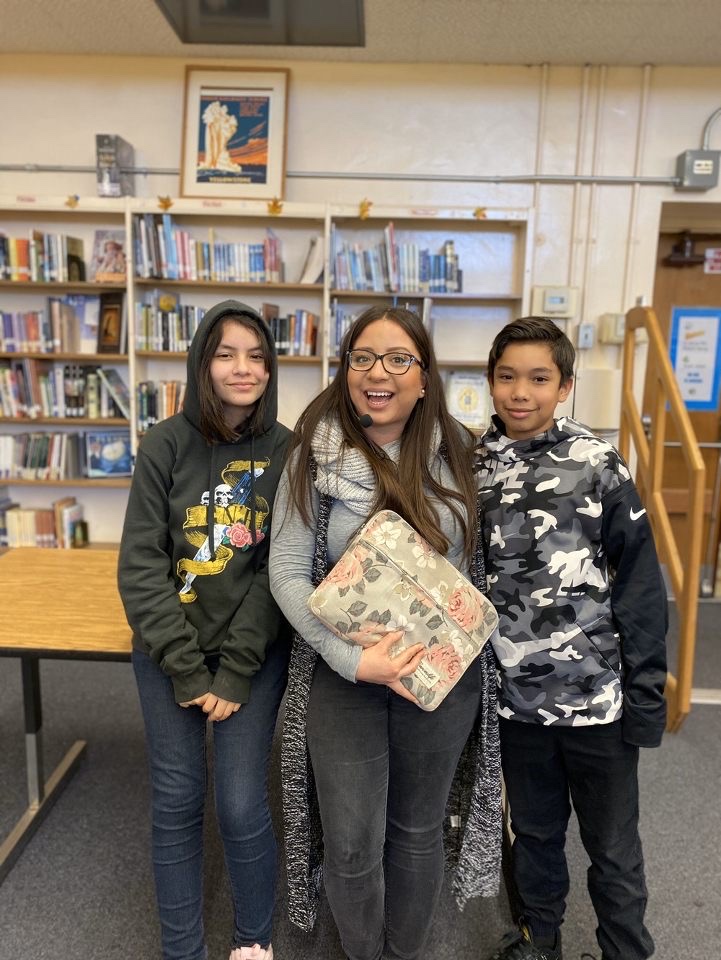 Knowing more than one language is an enormous asset for actively and critically participating in our diverse society. The state of California affirmed the value of multilingual education when it passed Proposition 58 in 2016, reversing the English-only requirement of Proposition 227 which subtracted students' home languages and linguistic assets. In 2019-20 Mann UCLA Community School educators embraced students' ability to speak more than one language and used it to reclassify a record number of students. 
Approaching language learning from an asset-based perspective creates a welcoming space for students that inspires them to speak up with confidence. On November 2, 2019, 6th grade teacher Berneice Morales (pictured above) joined 200 other educators to learn how to create these spaces for diverse English Learners at Center X's annual "With Different Eyes" conference. Ms. Morales, a graduate of UCLA's Teacher Education Program, is a certified bilingual teacher and brings a wealth of knowledge and passion about the value of multilingualism. 
Ms. Morales is part of a team of educators and partners who are working to create an inclusive and trusting environment for emergent bilingual students at Mann UCLA-CS. To document and deepen this work, UCLA PhD student Olivia Obeso collaborated with Title 1/ EL Coordinator Patricia Gillikin in a research-practice partnership. Through interviews and analysis of student data, they found that being bilingual helps teachers build relationships with students and that pedagogical as well as community knowledge helps educators guide students in their language development. For example, one teacher shared: "Always I start with an autobiographical unit, where the kids are sharing themselves. Not only do I get to know them, but they get to know each other, and they also get to know me because I participate in it. It's creating that sense of family." Building on the linguistic assets of students helps send a powerful message to students; as one teacher explained: "I'm going to push [them] to speak English. Okay, I'm not going to give up on that, but [I'm] also letting them know…'Your language is amazing. You're so lucky you're going to be set up with Spanish and English in your life.'"
Core Practice Narrative #2: Preparing Climate Change-Aware Students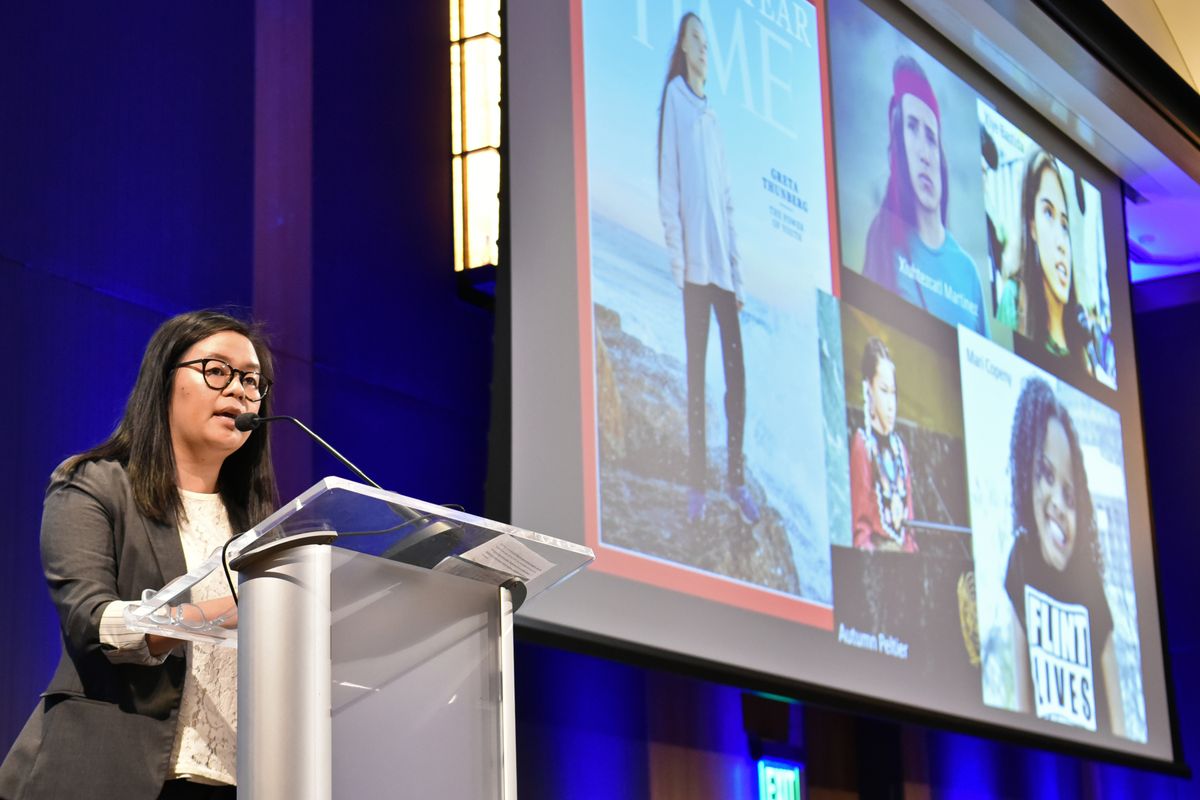 Students across the globe were inspired this year by Greta Thunberg, Xiuhtezcatl Martinez, Isra Hirsi, and other teen climate activists. Mann UCLA-CS students felt the urgency of their message in October 2019 when dangerous heatwaves and smoke from fires in Southern California cancelled sports and affected their air quality. To inspire a deeper understanding of climate science, science teacher Darlene Tieu and UCLA PhD student Heather Clark  collaborated to develop and study a community-based science curriculum that incorporates the realities of climate change. They engaged their students, for example, in figuring out each person's ecological footprint. As Ms. Tieu reflected, "Since that lesson, we continue to learn about climate change and it has made my students realize that the reality of their future is going to be very different from what they imagined."
On December 12th, 2019, more than 200 higher education leaders, pre-K through 12th grade educators, researchers and policymakers convened at UCLA for the Environmental and Climate Change Literacy Project and Summit to discuss how best to educate the next generation of climate change-aware students. Marcelo Suárez-Orozco, Wasserman Dean of the UCLA Graduate School of Education and Information Studies, co-chaired the summit steering committee and was a keynote speaker. Ms. Tieu also addressed the crowd, inspiring the room with her passion and expertise. She shared the urgency her students felt to address climate change: "They are realizing they are the ones who are going to have to fix this." Reflecting in a blog post on her teaching during the school closure, Ms. Tieu elaborated: "My hope is that students leave armed with scientific literacy, but more importantly feel supported, loved and empowered to be leaders in their own community."
Core Practice Narrative #3: Choral Counting Democratizes Mathematics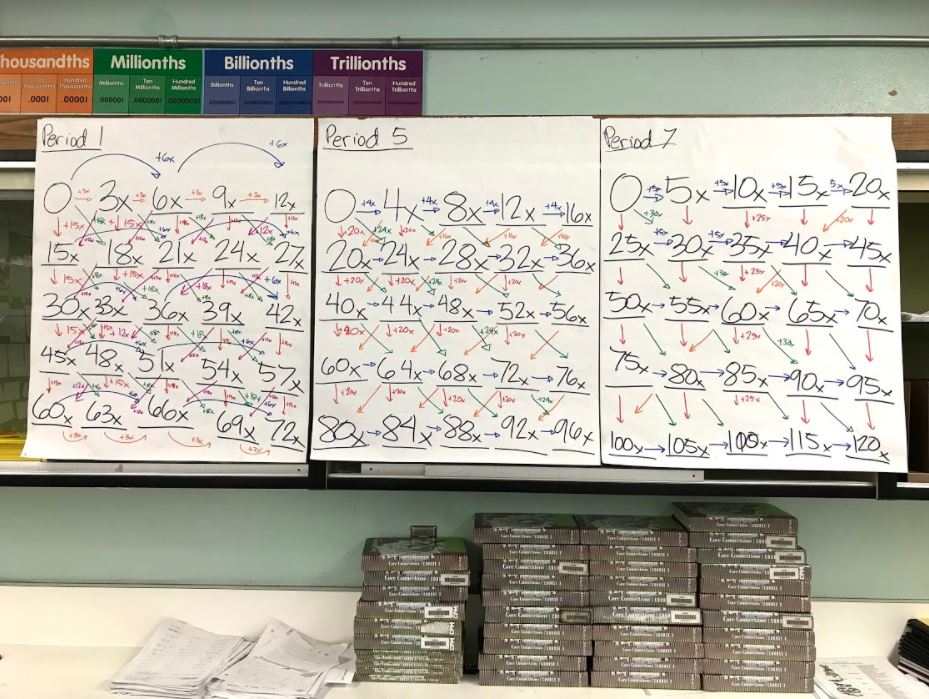 Math teacher Arbin Lubiano is always looking for practices to democratize his classroom. As part of the UCLA Partner School Network, he participated in a Learning Lab cycle with teachers from Mann UCLA-CS and sister school UCLA Community School. Together, they explored and practiced a strategy common in elementary classrooms–counting out loud. 
Choral counting is a cognitively-guided instructional practice that charts the count and engages students in mathematical discourse. Importantly, it allows teachers to access student thinking and figure out ways to extend and connect students' ideas (Sagun & McMillan, 2020). Mr. Lubiano wanted to use Choral Counting to see what math ideas his 8th grade Algebra students had and to see what connections they might make to algebraic expressions. He used the lesson to broaden participation and to hear from students who might not share their thinking in a traditional lesson–encouraging all students to be active and critical participants in mathematics class.
Importantly, Mr. Lubiano didn't do this alone. Facilitated by UCLA mathematics coach Theo Sagun, he and his colleagues designed the lesson and then iterated it three times–in periods 1, 5 and 7. Teachers used the choral charts from each round to debrief and share their professional learning. Another teacher, Ms. Gibson, commented that she appreciated the new tools and visiting each other's classrooms. She also noticed that the students really enjoyed it too.
Core Practice Narrative #4: A Connected Community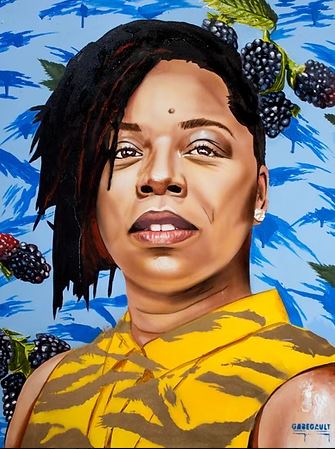 On November 5th, Mann UCLA Community School welcomed Patrisse Cullors—revolutionary, author, activist, and co-founder of the Black Lives Matter movement. Mann teacher, Marcus Van, invited Ms. Cullors to share her story with students and help them feel more connected to their identities, self-worth, and community. Over the course of five workshops with 100 students each, Ms. Cullors (pictured left in a portrait by Gabe Gault for UCLA: Our Stories, Our Impact ) engaged students in powerful conversations around identity, advocacy, criminal justice inequities, and the importance of using their voices and realizing their power. Reflecting on the experience, Mr. Van said, "It was incredible and interactive, and we are so blessed to have a living civil rights icon dedicated to the enrichment of our kids." 
The racial uprisings in the Spring of 2020 following the murder of George Floyd, Breonna Taylor and others ignited a partnership with educators at UCLA Community School to address antiracism in school practices–with the voices of students and families at the core. By the end of the school year, Mr. Van (pictured below with Ms. Cullors) and UCLA researcher, Ung-Sang Lee had assembled via Zoom a grassroots effort that named themselves the Anti-Racist Committee (ARC) and explored a variety of topics, such as student activism, community and parent involvement, instruction, and restorative practices.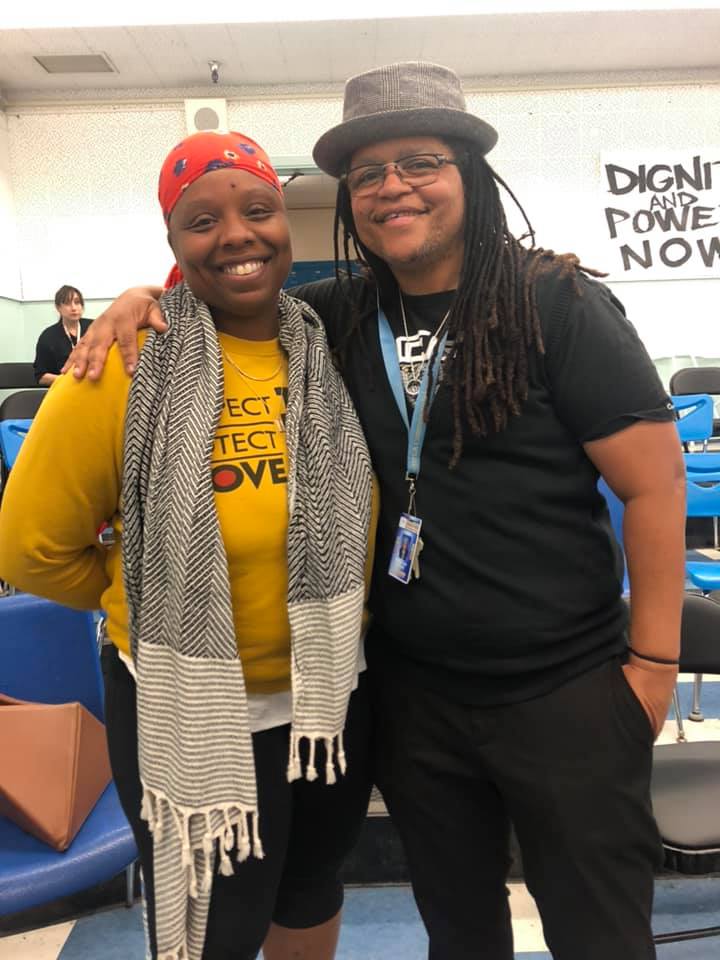 At the August Back to School retreat, as Mann educators and administrators made plans for a new academic year, student and parent ARC representatives shared their school and community experiences, advocated for anti-racist practices at the school, and proposed a strong push to expand student and family voice in the school's anti-racism work. With broad support from the school community, educators, students, and families at Mann have been developing new initiatives that advance the vision articulated through the ARC, including starting a new chapter of Students Deserve, designing advisory curricular units centered on racial justice, and collaborating with UCLA researchers to develop restorative socioemotional learning practices. Most importantly, the ARC has reinvigorated the school's democratic governance structure to refocus its efforts on the recruitment of students and families in the school's governance structure, and is working collectively to empower students and families to take central roles in all racial justice work at the school.
Part Three: Quantitative Indicators & Dashboards
Federal, state, and local agencies oversee the collection of massive amounts of data that track students' enrollment, attendance, program participation, demographics, language proficiency, test scores, behavior, socio-emotional health, school culture, graduation rates, grades, and much more. These data are used to create multiple reports for multiple audiences, yet it is challenging for teachers, staff, and partners working in schools labeled as persistently "failing" to interpret these reports as helpful or supportive. Instead, accountability reports are often viewed as punitive and demoralizing. 
To create a more authentic portrait of Mann UCLA's progress, the core practice narratives describe the work underway. To complement these qualitative data, we have created four dashboards to track quantitative student data related to each of the four core competencies. (Details about the data are provided at the end of this report.) These dashboards are a work in progress and will develop over time to more fully reflect the school's vision and include alternative and local assessment measures valued by the school community. Importantly, the school closures in the Spring of 2020 cancelled several assessment efforts, including state testing and therefore these measures are not included in this year's report. Overall, these initial dashboards portray the school context and provide longitudinal data to measure growth and inform improvement efforts.
View higher resolution PDF versions of dashboards.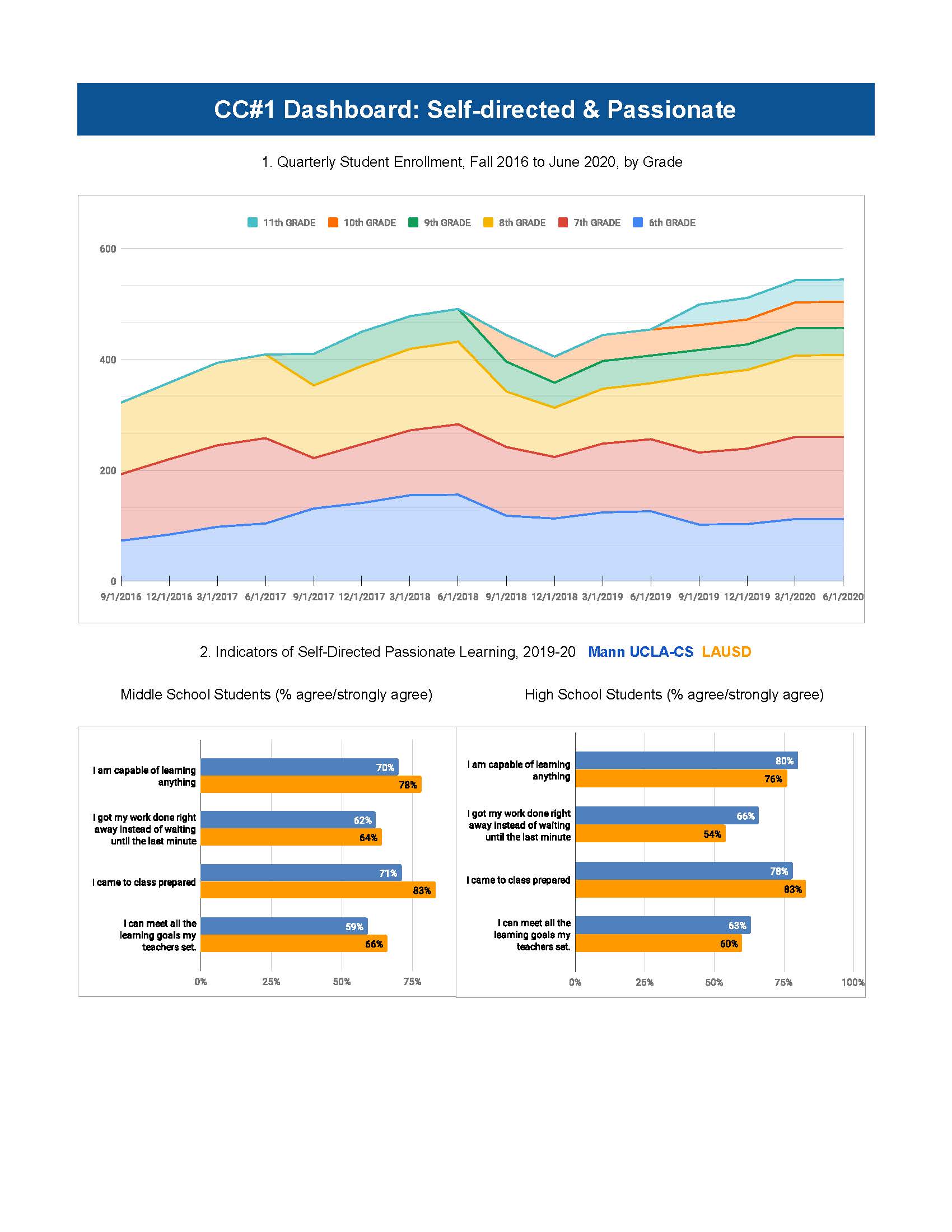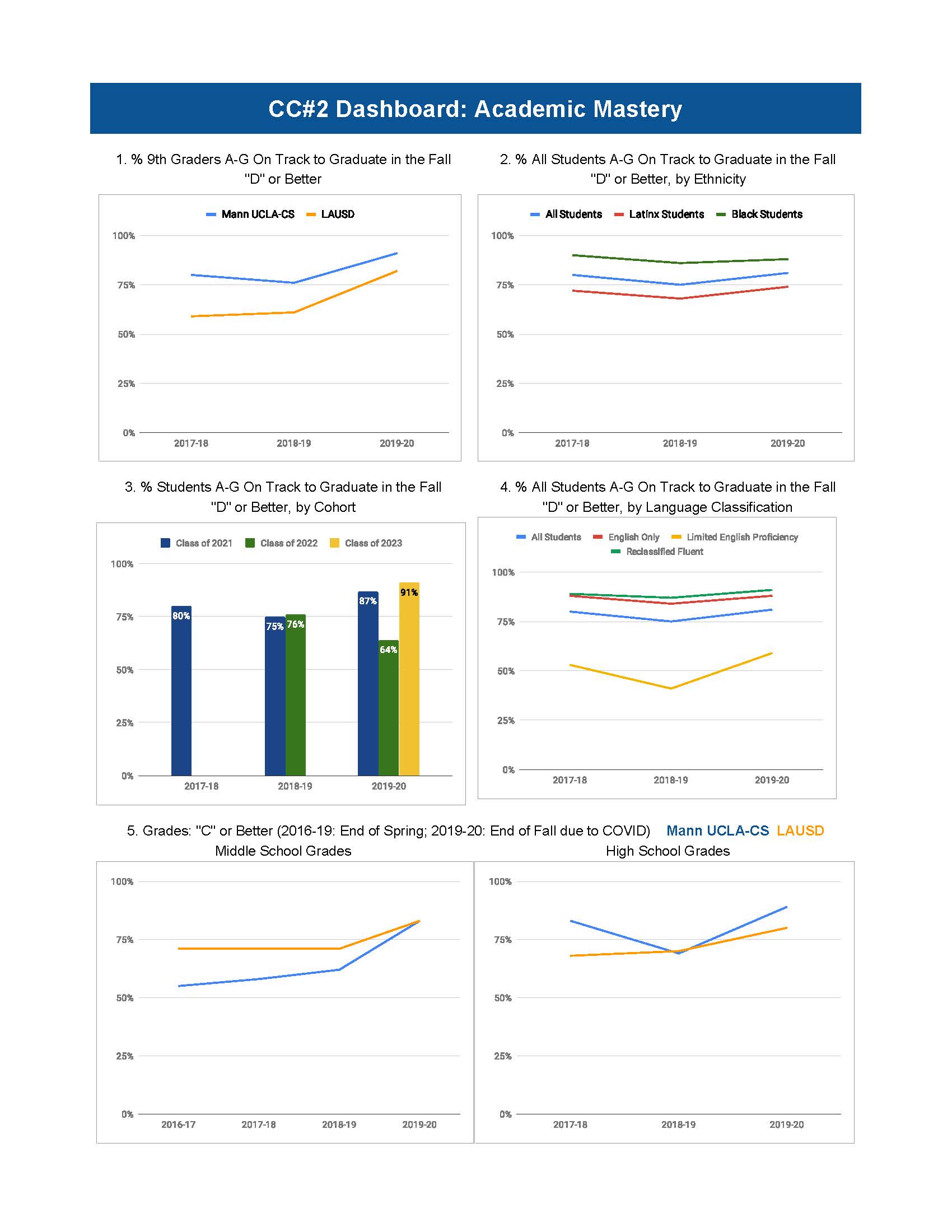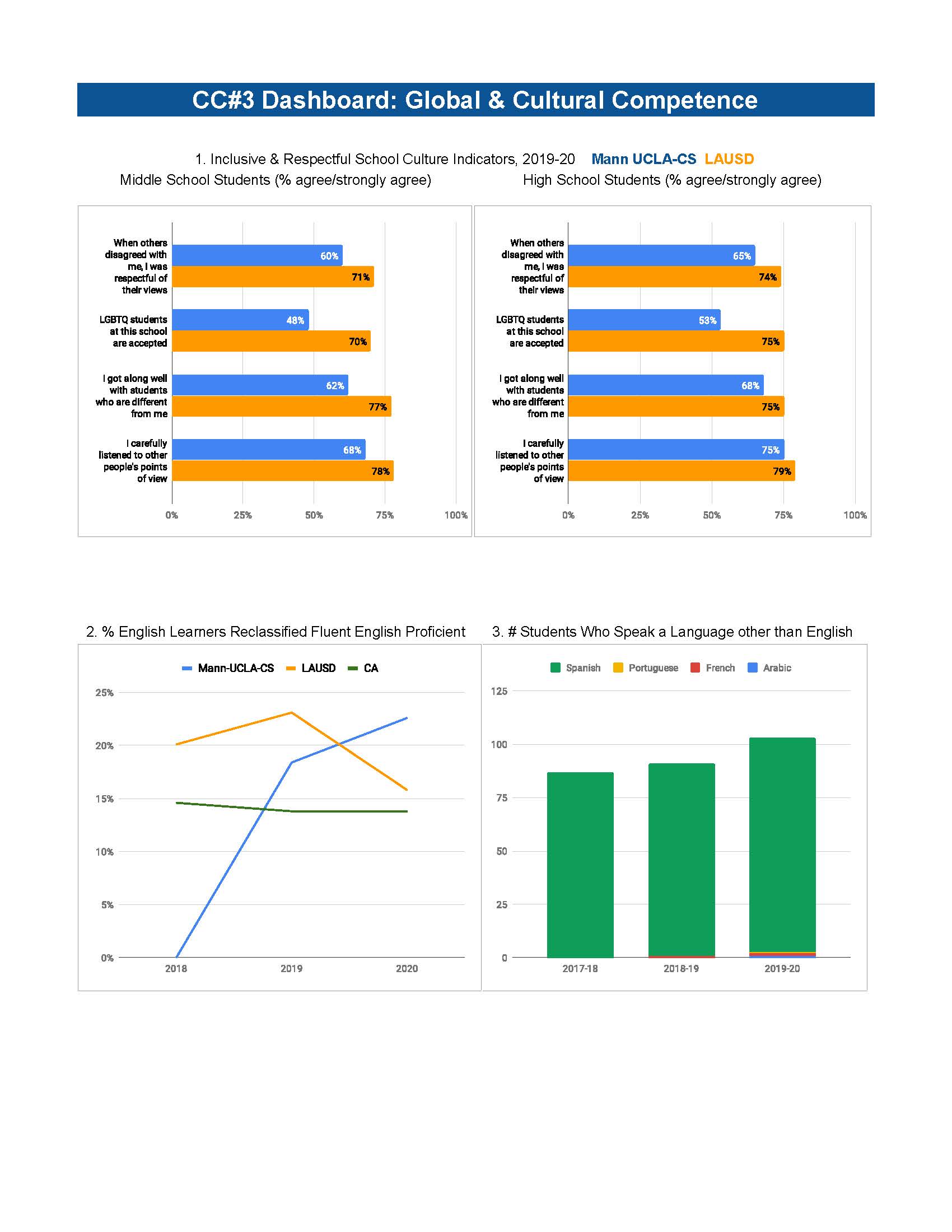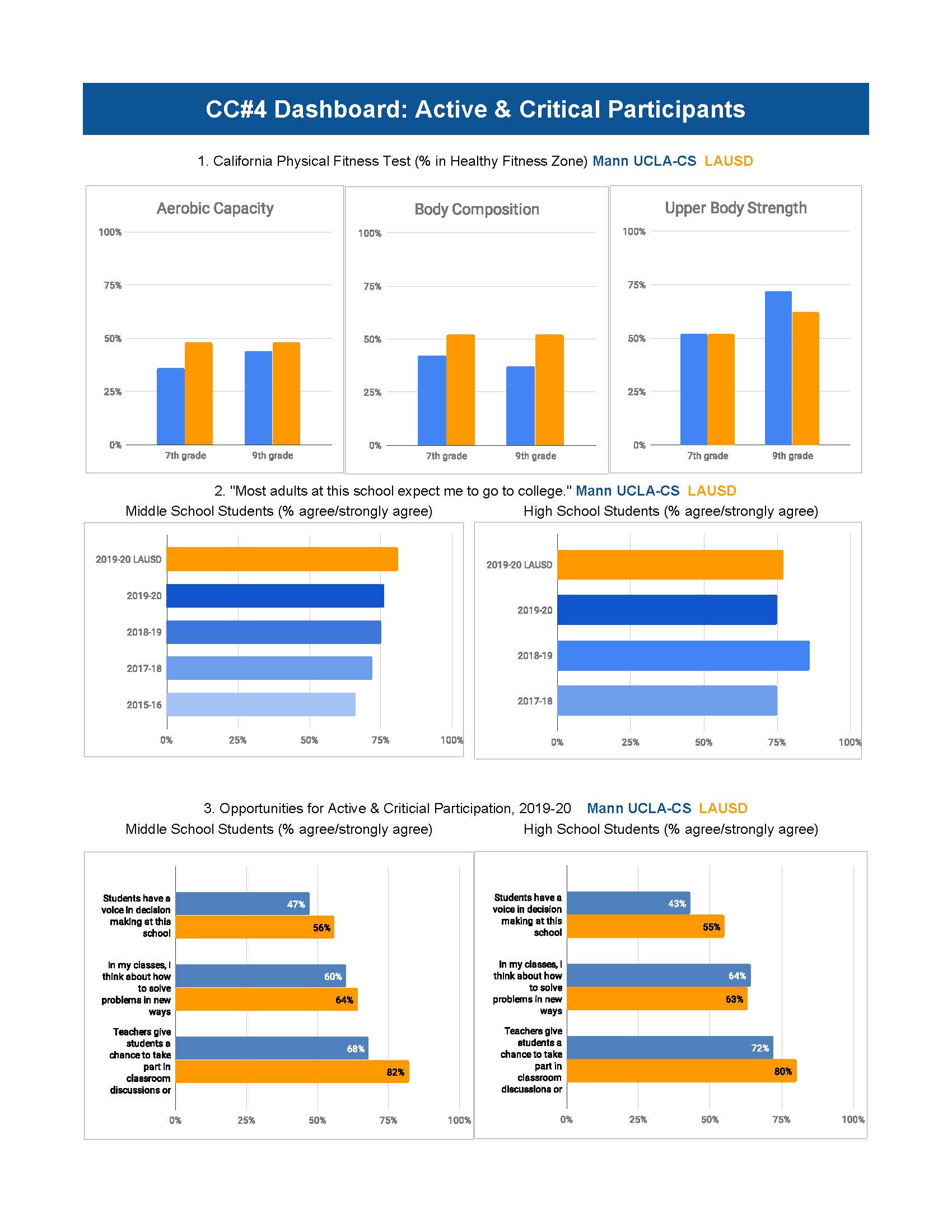 Part Four:  Professional Learning & Partnerships
Professional Learning and Working Conditions
Collaborative learning and a safe and respectful workplace are foundational to successful community schools. To track the quality of the school as a workplace, the research committee created an Educator Survey to be administered annually in the spring. The following data compare results over the first three years of the partnership. As Figure 4 shows, there has been an increase in teacher satisfaction with their working conditions, although 25% of teachers remain dissatisfied. Teacher retention increased in 2019-20, along with reports that the workload is sustainable.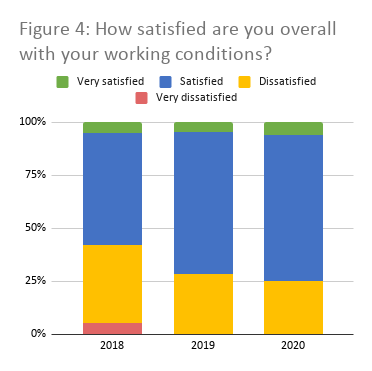 Unpacking these data further, the Educator Survey asked a number of questions based on an established instrument, the North Carolina Working Conditions Survey. The Professional Learning Dashboard summarizes school-wide ratings over the past three years on workplace quality items related to access to resources and professional learning opportunities. Of note, the percentage of teachers reporting that they have time to collaborate increased from 28% in 2018 to 94% in 2020. Other items increased slightly and some decreased, in particular teachers' reports that professional development enhances their ability to improve instruction decreased from 67% in 2018 to 50% in 2020. Data from the LAUSD School Experience Survey provide additional insight into the quality of the school as a workplace. While most teachers report feeling a responsibility to improve the school, other indicators lag behind the district averages. In particular, only 53% of teachers agree or strongly agree that the school promotes personnel participation in decision-making that affects the school, in contrast to 70% of teachers districtwide. While there is still significant room for growth, these data are rich with insights into Mann UCLA Community School as a workplace. These results will be used as part of the school's WASC self-study process to further strengthen the school culture and quality of Mann UCLA as a supportive workplace for adults.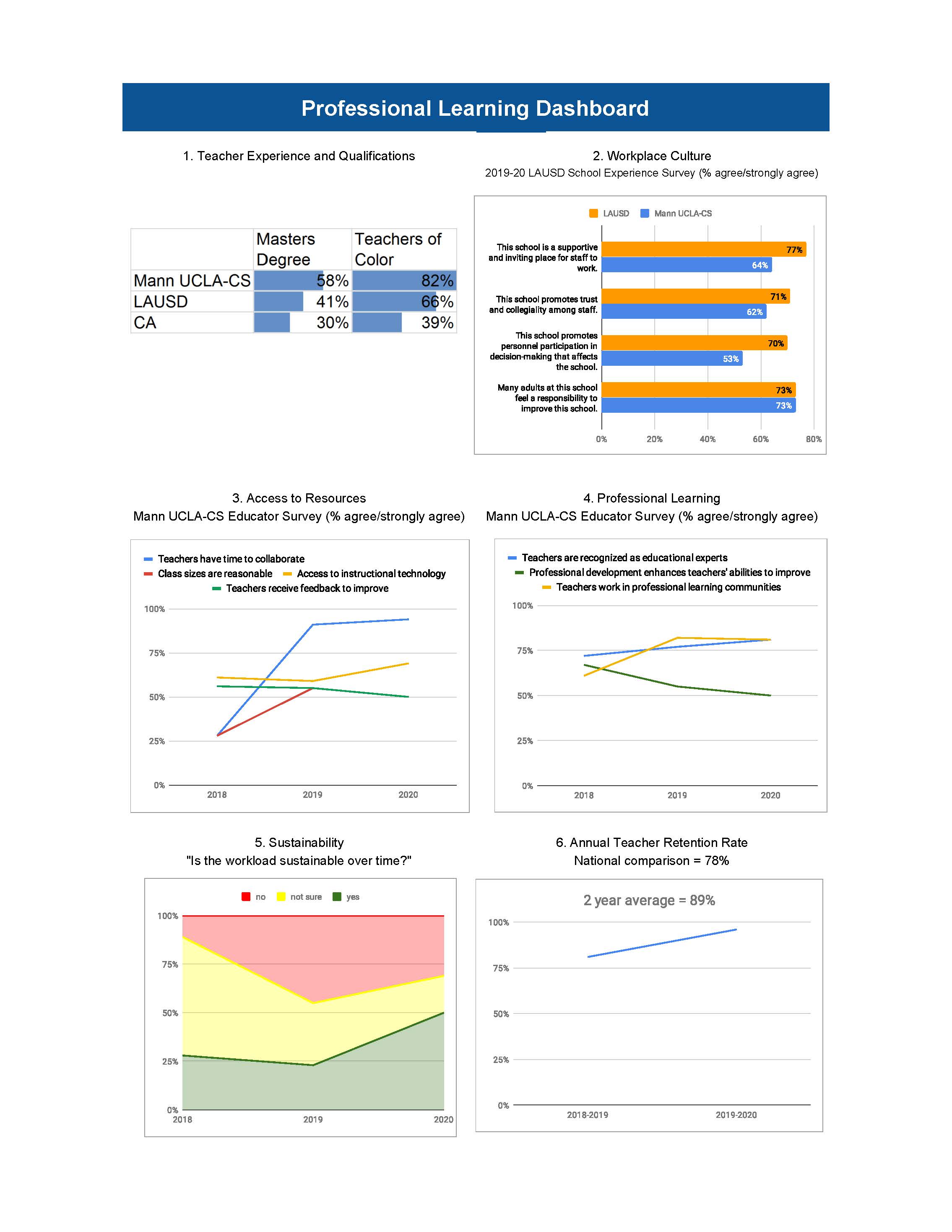 UCLA Partnership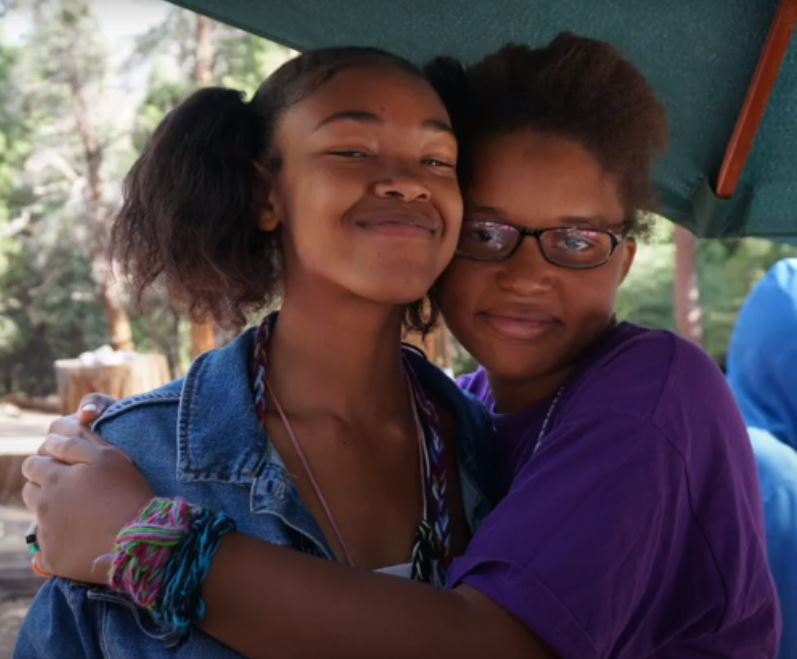 The partnership with UCLA was kicked off in 2016 with a Summer Institute that engaged students in enriching activities, including a week at UCLA UniCamp (pictured left). From that initial program, the partnership has grown significantly, offering Mann UCLA-CS students a variety of programs and learning opportunities. In 2019-20, PhD student Evelyn Wang worked with UCLA and school staff to take stock of the programs facilitated by the partnership. As Figure 5 describes, these range from taking students on field trips to providing BruinCorps tutors throughout the school year. 
Figure 5: Integrated Student Supports and Extended Learning Opportunities, 2019-20
Based on student-level longitudinal engagement data from 2016 to 2020, Ms. Wang analyzed the number of discrete programs (i.e., the total number of unique programs available to each cohort; recurring programs such as UniCamp are only counted once). As Figure 6 below indicates, students at every grade level have had a wealth of opportunities to extend and support their learning. 
Figure 6: Partnership Programs by Grade Level, 2016-2020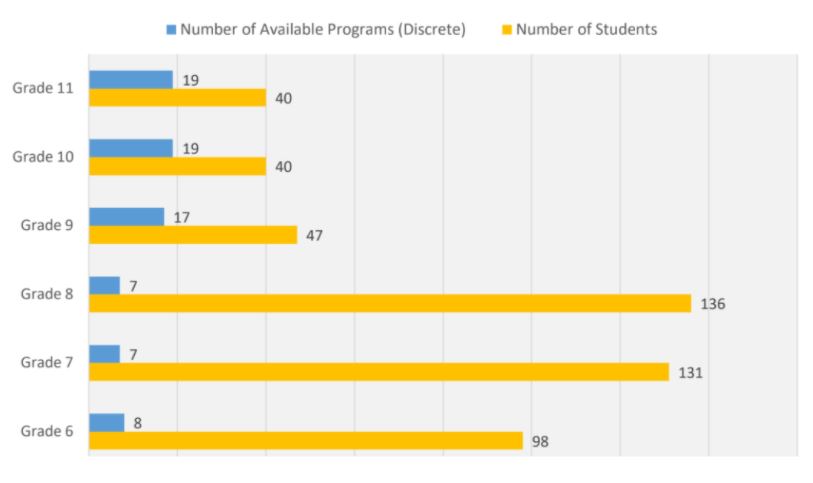 In addition to these programs, the school was a learning site for the UCLA Teacher Education Program In 2019-20, 8 novice and urban inquiry teachers contributed to the life of the school as co-teachers and 15 BruinCorps tutors further supported classroom learning.  In total, 231 UCLA and other school partners contributed more than 15,150 hours of service to Mann UCLA Community School in 2019-20.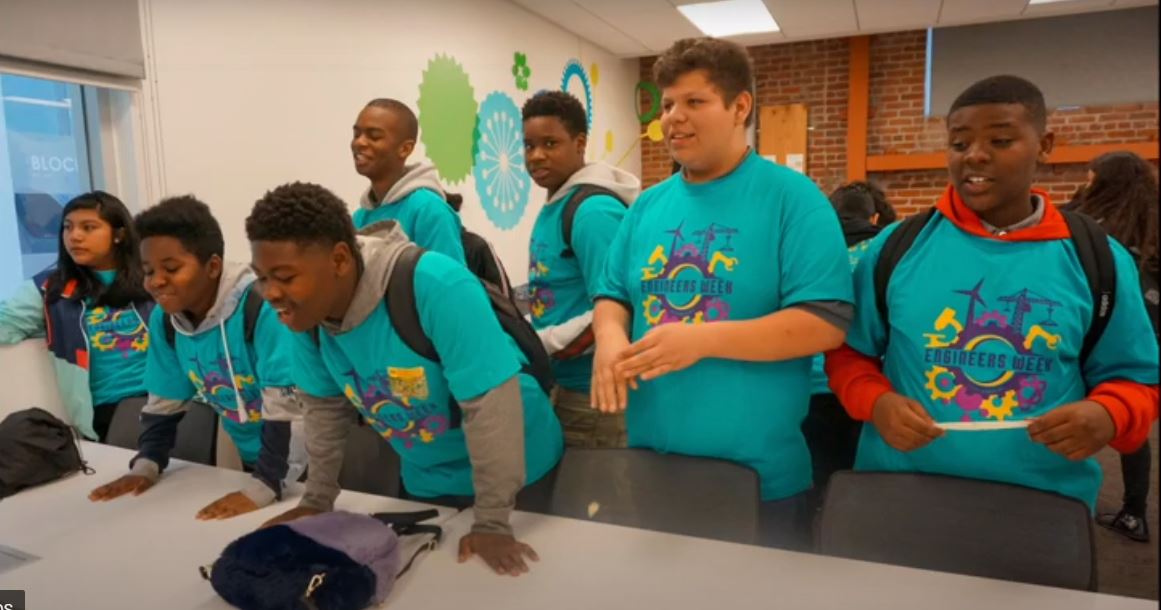 Part Five:  Engaging Beyond the School
"LAUSD and UCLA expect the school to develop innovative structures and practices for school governance, staffing, budgeting, assessment, and professional development that will inform school improvement efforts across the district, state, and nation." This expectation from the original 2010 partnership agreement was realized in many ways throughout 2019-20. 
In 2017, the UCLA Center for Community Schooling was established to share the work of the UCLA Community School as well as the new Mann UCLA Community School—joining with others to unite the K-12 community schools movement with higher education civic engagement reforms. The UCLA Community Schools are part of a growing University-assisted Community Schools Network convened by the national Coalition for Community Schools and the University of Pennsylvania's Netter Center for Community Partnerships—tied deeply to the democratic traditions of collective problem solving and equal educational opportunity (Benson, et al., 2017).  With generous support from the Netter Center, the UCLA Center for Community Schooling was named a Regional Training Center for university-assisted community schools in the states of California, Oregon and Washington. In this capacity, the center organizes conferences, gives presentations, hosts study tours, engages in research-practice partnerships, and develops publications and materials to inform the development of community schools.   
The school also hosted several visitors in 2019-20, including educators from Argentina who spent a half-day at the school as part of a 3-week International Partnership Program organized by the UCLA Graduate School of Education & Information Studies and the Argentina Ministry of Education.
2020 Rise Up for Equity Summit on Community Schools and Family Engagement 
In the fall of 2018, Center staff began planning for a May 2020 national convening of 5,000 community school practitioners and partners at the LA Convention Center. We joined two other local co-hosts, the Los Angeles Education Partnership and Families in Schools, to help support the national Coalition of Community Schools and Institute for Education Leadership in co-constructing a program of site visits, workshops, and events that would elevate the work of community schools in Los Angeles and showcase the role of higher education partners.  A Summit launch on November 4, 2019 set in motion bi-weekly meetings to develop a range of workshops that captured the need for community schools, the experiences of students, families, practitioners and community members in community schools, and community school outcomes. In April, the Summit was moved online due to the pandemic and the program was restructured. 

On June 15, 2020, Center staff and graduate students participated in a deep dive session on University-Assisted Community Schools (UACS) that featured 13 school-university partnerships. In preparation, we created a new UACS network website that provides background information, partnership highlights, and research and evaluation efforts. On June 22nd, more than 130 community schools practitioners, district leaders, youth, researchers, and other participants at the Virtual Rise Up for Equity Summit engaged in an hour-session on teaching and learning practices in Los Angeles community Schools. The session featured the work of teacher research fellows, including Nivia Alvarado from Humanitas Academy of Art and Technology, Lorenza Yarnes from Leo Politi Elementary, Darlene Tieu from Mann UCLA Community School, Roberto Vega from Social Justice Humanitas Academy and Rosa Jimenez from UCLA Community School–members of the UCLA Consortium of Community Schools. 
Conclusion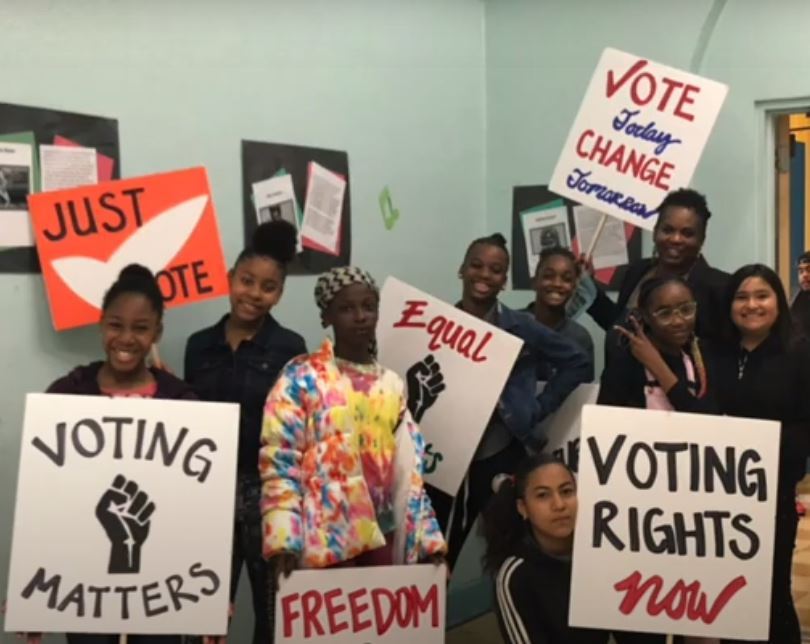 Looking back on this extraordinary year, it's clear that Mann UCLA Community School is making positive strides towards its mission to educate students to enter the adult world as confident and capable human beings–prepared to succeed in college, pursue meaningful careers, and participate in our democracy. 
As the narratives and measures in this report indicate, there is cause for both celebration and reflection as the school continues to deepen its community school practices and partnerships. 
About the Data
Figures 
Figure 1: Data on race/ethnicity was retrieved from California State Department of Education (http://dq.cde.ca.gov/dataquest/) in August 2020. It should be noted that these identity labels do not necessarily capture the way students identify themselves.
Figure 2: Data on student groups was retrieved from California State Department of Education (http://dq.cde.ca.gov/dataquest/) in August 2020.
Figure 3: Data on race/ethnicity was retrieved from California State Department of Education (http://dq.cde.ca.gov/dataquest/) in August 2020. It should be noted that these data are based on the prior school year and the identity labels do not necessarily capture the way teachers identify themselves.
Figure 4: Data collected by the school in the annual end-of-year Educator Survey.  
Figure 5: Data on integrated student supports and extended learning opportunities are collected by the UCLA partnership team. 
Figure 6: All UCLA engagement data are collected by UCLA staff working at the school using a variety of methods and sources, including sign-in sheets, administrative records, and surveys.  
Dashboards
CC#1 Dashboard
Student enrollment data is based on LAUSD's My Data School-level Attendance Dashboard, At-Risk Attendance Report. This report provides attendance by proficiency band by month, including the number and percent of students. The total student attendance numbers were used to create this analysis in order to understand the pattern of increasing enrollment throughout the school year.

School Experience Survey Responses:  LAUSD data retrieved in August 2020 from

2019-20 School Experience Survey Results

.
CC#2 Dashboard
Graduation Progress: LAUSD data retrieved from My Data in August 2020.

Graduation Progress by Ethnicity: LAUSD data retrieved from My Data in August 2020.

Graduation Progress by Cohort: LAUSD data retrieved from My Data in August 2020.

Graduation Progress by Language Classification: LAUSD data retrieved from My Data in August 2020.

Grades:  LAUSD data retrieved from My Data in August 2020.  Note that data refer to the number of course grades, not individual students earning those grades. 
CC#3 Dashboard
School Experience Survey Responses:  LAUSD data retrieved in August 2020 from

2019-20 School Experience Survey Results

.

Reclassification rates were retrieved from LAUSD My Data, English Learner Dashboard in August 2020.

Student language data were retrieved from LAUSD My Data, English Learner Dashboard in August 2020.
CC#4 Dashboard
California Fitness Test data retrieved from Dataquest (http://dq.cde.ca.gov/dataquest/) in August 2020. Note that the most recent data available is for the 2018-19 school year.

School Experience Survey Responses:  LAUSD data retrieved in August 2020 from

School Experience Survey Results

from 2016-2020. 

School Experience Survey Responses:  LAUSD data retrieved in August 2020 from

2019-20 School Experience Survey Results

.
Professional Learning Dashboard
Teacher Experience and Qualifications:  California State Department of Education data retrieved from Dataquest (http://dq.cde.ca.gov/dataquest/) in August 2020.  Teachers of color is defined as teachers who do not identify as "White."  

Workplace Culture:

School Experience Survey Responses:  LAUSD data retrieved in August 2020 from

2019-20 School Experience Survey Results

.

Access to Resources: Data collected by the school in the annual Educator Survey; these workplace items are based on the

North Carolina Teaching Conditions Survey

. 

Professional Learning: Data collected by the school in the annual Educator Survey.

Sustainability: Data collected by the school in the annual Educator Survey.

 

Annual Teacher Retention: Data collected and maintained by UCLA based on school faculty rosters. National comparison data for urban, high-poverty schools based on Ingersoll (2004). 
References 
Harkavy, I., Benson, L., Hartley, M., Hodges, R. A., & Puckett, J. (2017). Knowledge for social change: Bacon, Dewey, and the revolutionary transformation of research universities in the twenty-first century. Temple University Press.
Ingersoll, R. M. (2004). Why do high-poverty schools have difficulty staffing their classrooms with qualified teachers? Center for American Progress, Institute for America's Future.
Sagun, T. & McMillan, B. (2020). Extending Choral Counting Mathematics Teacher: Learning and Teaching PK–12.